Cathedral Creek (600 m + 100 m), Court Creek (900 m + 300 m)
Leader Creek (250 m), Victoria Creek (800 m + 300 m + 200 m),
Newgate Creek (1 km + 300 m + 100 m), and Station Creek (400 m).
In this page we explore six small streams that once flowed into Toronto Bay between Russell Creek and Taddle Creek. Probably only the two most easterly, Cathedral Creek and Court Creek, were truly "Market" streams, but all traversed the early city. Except for some slight exceptions noted below, all began south of Queen Street and flowed in a generally south-easterly direction into the harbour, at that time, just south of Front Street. While the larger streams flowed year round, the smaller ones were probably freshets or seasonal streams. No noticeable trace remains of any of them.
Click here to see active hot spots to points of interest. Double click to remove.
Click here to see sewers. Double click to remove.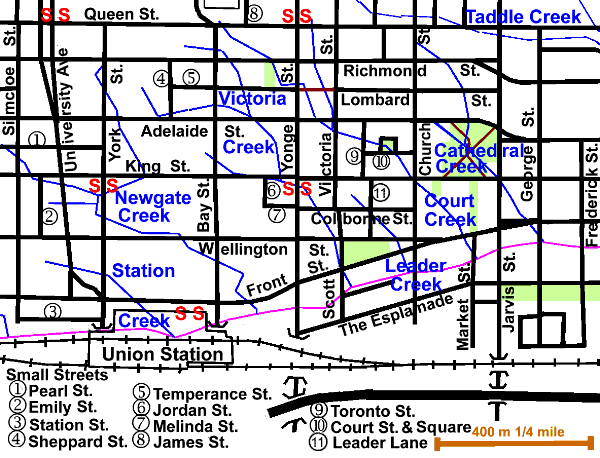 In "A Glimpse of Toronto's History" (MPLS # 008) we read that: "For some time it was believed that there was only one Market Creek, but there may have been as many as six. The confusion lay in the fact that (some) did not flow all year. These creeks were, more correctly, freshets (seasonal flows) that formed on consistent routes when the level of precipitation and runoff was sufficient. (Some flowed year round), as horses bringing goods to market were watered by these creeks. At an unknown date, during the period when buildings were becoming larger and closer together, the creek routes were buried, but a pump was installed to draw water for horses. (The pump is believed to exist today inside the walls of the market buildings.) In the first half of the 19th century, all of the surface waters on the mainland and the waters of the harbour were becoming increasingly polluted. Frequent newspaper articles of the period complained about the stench and water quality. (These streams were not put in storm sewers) but were simply driven underground where they are believed to continue to flow. Occasionally, Public Works Department excavations south of Front Street give evidence of the flooding of buildings and the continuing flow and its distribution underground."
This area, one of the earliest urbanized parts of this city, is now mostly commercial and holds many of Canada's largest financial towers. There are many historic buildings and sites. We have only touched on a few. To learn about some we have not included, an interesting website is Bruce Bell's History Project, which also has links to other related websites.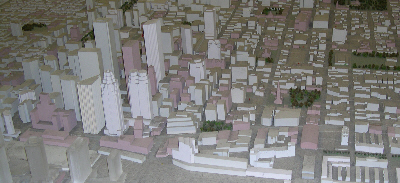 This view of a model of downtown buildings at City Hall
shows the intensive development of this area
Tree cover is largely absent. Sanitary sewage flows to the Ashbridges Bay Sewage Treatment Plant via either the High Level or the Low Level Interceptor Sewers. Storm water and CSOs flow to Toronto Bay via several overflow outlets. None of the sewers reflect the original creeks,
Walking the creeks
Station Creek
About 400 metres
Started west of University Avenue between Wellington and Front Streets on the grounds of The Rev. John Strachan's "palace" and flowed east across York St. past the town home of William Dummer Powell, Chief Justice of Upper Canada from 1816 to 1834 (see Caer Howell) and through the site of the Royal York Hotel to enter Toronto Bay about the centre of where the present Union Station stands.
Newgate Creek
1 km plus two unnamed tributaries 300m & 100m approximately.
It started near York and Richmond, where the new Opera house has just been constructed. The present location of Campbell House lies nearby at the NW corner of University and Queen. The top stretch of this creek was the first stream to be buried in Toronto (then York). It then flowed south and east to King where it swung west to meet two small unnamed tributaries along York Street between King and Wellington. The longer of these started near Simcoe and Pearl. Newgate Creek got its name from the original name for Adelaide Street. (Pictureof Victorian office building). It entered the Bay between Bay and Yonge Streets. A bit to the east, on the harbour shoreline, was Freeland's Soap and Candle Factory, where the Hummingbird Centre is now.
Victoria Creek
800 m plus two unnamed tributaries 300m & 200m.
It started in the block bounded by Richmond, Adelaide York and Sheppard and flowed east past the site of The Dixon Carriage Works, to meet the longer tributary along Adelaide between Bay and Yonge. This tributary started near Richmond and Bay. Just to the east, at the corner of Adelaide and Yonge were the home (NW corner) and tannery (SW) of Jesse Ketchum. The combined stream flowed in a southerly direction to meet its shorter tributary along King St. This stream started about a block west and passed the site of the Bank Of Commerce Tower, now hidden away among taller neighbours, but which was for many years a landmark on the Toronto Skyline and the tallest building in the British Empire. Victoria Creek entered The Toronto Bay at Scott Street where the St. Lawrence Centre for the Arts is now located. Just to the west on the harbour shoreline, where the Hummingbird Centre is now, was Freeland's Soap and Candle Factory.
Leader Creek
250m
This short stream started near Leader Lane and Colbourne St. and entered Toronto Bay at Church Street. It passed through the site of the Gooderham (Flat Iron) Building and near the site of Steamboat Inn and St. Lawrence Centre for the Arts.
Court Creek
900m plus unnamed tributary 300m
Court Creek started at Bay and Queen Streets in front of the Old City Hall and flowed south east, passing Cloud Garden Park, to join its one tributary near Victoria and Adelaide. This tributary arose at Queen St, between Yonge and Victoria, where James Good's Foundry (later Toronto Locomotive Works) was situated. Did you know that provision has been made for a Queen Street Subway Line?. The first location of Holy Blossom Synagogue was between these streams at the SW corner of Richmond and Yonge. Close by at the corner of Adelaide and Yonge were the home (NW corner) and tannery (SW) of Jesse Ketchum. The combined streamlet flowed through Court Square Park and south of the Adelaide Street Court House. From there, it passed close to St. James Cathedral, The Sculpture Park, and Steamboat Inn to enter Toronto Bay at Market Street, just east of St. Lawrence Market.
Cathedral Creek
600m plus unnamed tributary 100m
Cathedral Creek started on Church St. just south of Queen and flowed south into the site of St. James Park passing the two sites of The Blue School and that of The Mechanics' Institute (north-east corner of Adelaide Street and Church Street). In the park it was joined by a short tributary. St. James Cathedral lies west of the park. A short detour to Adelaide and George St to see the Bank of Upper Canada and Toronto's First Post Office is worthwhile. The original location of Campbell House lay further east at the head of Frederick Street. From the park this creek passed St. Lawrence Hall and market to enter Toronto Bay at George St. A bit to the east was a house that was ocupied by William Baldwin and later William Lion Mackenzie, the site of Davies' Meat Packers and later the J. & J. Taylor Safeworks and Allan's Wharf.