A new building is under construction at the corner of University and Queen. When it is finished in 2006, it will be The Four Seasons Centre for the Performing Arts, a 2000-seat theatre specifically designed for opera and ballet with the best acoustics. It will have a four-tiered horseshoe-shaped auditorium in the European traditional, to make for an intimate contact between the audience and the performers. It was designed by the Toronto firm of Diamond and Schmitt Architects Inc. It will be the new home for the Canadian Opera Company. The company's main administrative offices and rehearsal spaces and workshops will remain in their current home at Front and Berkeley Streets.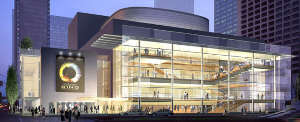 Based in Toronto, the Canadian Opera Company is the largest producer of opera in Canada and one of the largest in North America and has an international reputation for artistic excellence and creative innovation. According to its website, the story of the Canadian Opera Company began in February, 1950, when the Royal Conservatory Opera Company presented its first 10-performance opera festival at the Royal Alexandra Theatre. In November that year, the Opera Festival Association of Toronto was granted Letters Patent and a provincial charter. In February, 1951 a second annual Opera Festival at Royal Alexandra Theatre, was presented. In 1960, the Opera Festival Association became the Canadian Opera Association. The next year The Canadian Opera Company Toronto performances were moved to the 3,167 seat O'Keefe Centre (now the Humming Bird Centre). In 1977, Canadian Opera Association legally changed its name to the Canadian Opera Company and the Canadian Opera Company Orchestra was created. It had been known informally as the Canadian Opera Company for some years. In 1979, the Company administrative offices and production facilities were moved to Harbourfront Centre. In 1985, Company administrative offices were moved to the Dalton Building at Front and Berkeley Streets, where rehearsal spaces were also established as well as the Imperial Oil Opera Theatre.
For more about the Canadian Opera Company and The Four Seasons Centre for the Performing Arts, visit www.coc.ca.