Freeland's Soap and Candle Factory was built on the harbour shoreline, just to the east of the original foot of Yonge Street. The Hummingbird Centre now occupies that space.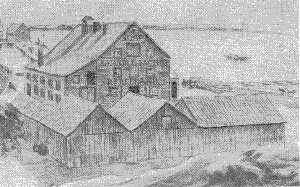 Peter and William Freeland were Scotish immigrants who came to York from Glasgow in 1830 and began one of the city's earliest factories here. They built their three storey, 90' by 40'.factory, partly on land but also out into the water on stone cribs. In later years, additions were made along the mainland. From their native Scotland they imported huge iron kettles and, from the U.S.A., candle moulds. They began by making candles and branched out into soap-making. Other businesses followed the Freelands' and the wharf became known as the Yonge Street Wharf. Information from "A Glimpse of Toronto's History"(MPLS#168) and "Original Toronto."
Hummingbird Centre
When first built 37 years ago, the Hummingbird Centre was called the O'Keefe Centre. Over the years it has many notable international touring performances, including the Irish hoofing extravaganza Riverdance. Harry Belafonte has played it 13 times and Bill Cosby six. With 3,155 seats, it is the largest facility of its type in the country. At the present it is home to the Canadian Opera Company and the National Ballet of Canada. I t is owned by the city. The Toronto City Council is considering some major changes including a 50-storey residential tower.