The St. Lawrence Centre for the Arts was established in 1967 as Toronto's Centennial Project. It opened its doors in 1970. There are two theatres in the centre: The Bluma Appel Theatre was originally called The Theatre, but after it was renovated in the early eighties with the generous support of Mrs. Bluma Appel, it was renamed in her honour. The Jane Mallett Theatre was originally called the Town Hall. It was also renovated. In this case, friends of the Canadian actress, Jane Mallett, who died in 1984, raised funds for the renovations as a memorial to her.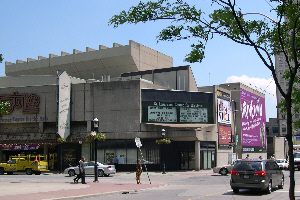 The Centre is an agency of the City of Toronto, which is governed by a volunteer Board of Management appointed by the City. Its mission is to provide a focus for Canadian performing arts, which "will take a leadership role in providing Toronto residents, visitors and diverse cultural communities with a professional, service-oriented theatrical and entertainment facility. Varied and high quality cultural, artistic and public events will be attracted, facilitated and presented continually."
Information from the St. Lawrence Centre website www.stlc.ca.