The Toronto Sculpture Garden which is one of the City of Toronto's interesting small parks has shown the work of more than 65 artists in over 45 exhibitions since it opened in 1981. It was made possible by the support of the Louis L. Odette Family, the City and the Province. Exhibitions are funded and administered by the non-profit L.L.O. Sculpture Garden foundation and a volunteer Art Advisory Board.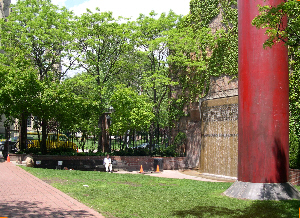 Sculpture Garden, June 1, 2004
The plaque at the entrance says:
"TORONTO SCULPTURE GARDEN, 115 King Street East, The Sculpture Garden in this city park was constructed with generous contributions from the Louis L. Odette family and the Province of Ontario to promote the art of sculpture for enjoyment of the people of Toronto. An art advisory board organizes exhibitions which exemplify a variety of sculptural styles and techniques by artists working in Canada and around the world. Opened September 11, 1981."
The City's website tells us that:
"The Toronto Sculpture Garden has been a leader in Canada in the commissioning of contemporary sculpture for outdoor sites since it opened in 1981. Located in an urban park in the downtown core, it serves as a testing ground for artists to experiment with public space and to address issues of urban context, materials and scale. There are two exhibitions per year, from May through September and from October through April. In the last decade, works have been commissioned from Micah Lexier, Tom Dean, Peter Bowyer, Millie Chen and Warren Quigley, James Carl, Liz Magor, Panya Clark Espinal, Kim Adams and Fastwurms.
"The TSG is a non-collecting institution that is unique in its partnership between the City of Toronto, which owns and operates the site as a city park, and the Louis L. Odette Family, benefactors who created the non-profit L.L.O. Sculpture Garden Foundation which funds and administers the exhibitions. Newly commissioned work becomes property of the artist and may be offered for sale after the conclusion of the exhibition."
The Toronto Sculpture Garden is a City of Toronto park and is open daily from dawn to dusk. Admission is free. For information, contact (416) 515-9658 during business hours.
The website comments can be found here or for information on current exhibitions.