Frederick and Palace (now Front) Streets.
Dr. William Warren Baldwin, who was born near Cork Ireland, settled in York in 1802. At first he boarded with the William Willcocks family on Duke Street. Willcocks was postmaster and magistrate of York. As his medical practice proved small, Baldwin opened a boys' school in the Willcocks house. In 1803, as lawyers were scarce, he was one of a small group who obtained a licences to practice law by demonstrating to the Chief Justice that their education was adequate. The same year, he married the Willcocks' daughter, Phoebe. Willcocks built them a house on a lot he owned at the northwest corner of Frederick and Palace Streets. It was a one and a half storey frame house, which was probably planned by Baldwin, who was an amateur architect. It faced Front Street, with a side entrance on Frederick.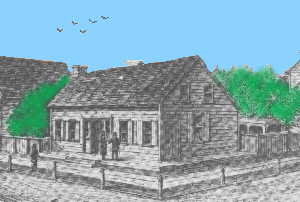 On May 12, 1804, the school got a holiday to celebrate the birth of the master's son, Robert, later to become a great statesman and the Father of Responsible Government in Canada. In 1807 the Baldwin family moved to a new home at the northeast corner of Front and Bay Streets. In 1818, he built a country home, the first Spadina, on the Iroquois shore bluff. Later in 1835, Baldwin built a large brick mansion on that lot, which had been bought from Hon. Peter Russell, Receiver General and first cousin of Phoebe's father. The Front Street house was rented and later sold.
William Lyon Mackenzie, later the first mayor of theCity of Toronto, moved to York from Queenston in 1824 and became the next famous resident of this house. As was comonly done in those times in York, the family lived in the rear and upstairs, while the ground floor housed the newspaper office, editorial room, printing press and book store. It was a cosy home for the family with his mother Elizabeth, his wife Isabel Baxter, her mother, his illegitimate son James and a number of younger children, a servant and one or two apprentices living and working there. When Mackenzie failed to get the job of King's Printer, his editorials attacking members of the "Family Compact" became increasingly libellous. By June 1826 the outrageous chronicles of their private lives had reached the stage that a group of younger men from these families, led by Samuel Peters Jarvis, decided to teach him a lesson. On June 8, while Mackenzie was away in Queenston, they broke down the door, destroyed his printing press, and heaved the type into the harbour from Allan's Wharf, just across the street. Mackenzie's press and type have never been retrieved. They are probably still there buried under fill and newer buildings as development encroached the harbour.
Mackenzie, who was on the verge of bankruptcy, sued and won damages of £625 and was able to set up much better than before. Shortly after this raid, Mackenzie moved to Church Street, and the property at Front and Frederick streets was bought by Joseph Cawthra who became a wholesaler, supplying groceries to most of the stores in the province. Around 1827, he moved to the former Baldwin house and added a large storehouse. He occupied this house until his death in 1842. Joseph's son, William, inherited the business and the house where he lived until 1849, when he remarried and moved to Jarvis and Bloor streets. William became a wealthy and philanthropic capitalist. Henry Cawthra, Joseph's grandson, lived in the Frederick Street house until about 1852. Not long afterwards the house was destroyed in a fire.
Information from "Original Toronto."