Located at 57 Adelaide Street East, the York County Court House, was designed and built in 1852 by Cumberland and Ridout, who also built St. James' Cathedral and many other fine Toronto buildings. The Courthouse was the third to serve the city of Toronto and has seen many historic events with both local and national significance. including the last public execution and the formation of the Group of Seven. In 1909, after the building was no longer used as a courthouse, the Arts and Letters Club of Toronto took it over as a meeting place. Today it is home to The Court House Market Grill and Restaurant.
York County Courthouse 1852 The structure housed the County Court, the County Treasurer, the Clerk of the Council, the Division Court, the Clerk of the Peace and the Sheriff. Many original facilities of the Courthouse have been preserved to this day; they include actual jail cells and a magnificent circular staircase, which once provided the Judge and the Crown Council with rear access to the criminal courtroom on the second floor. The jail cells depict the grim life behind bars, as re-created by Louis Tussad's Wax Museum.
As the home of the Arts & Letters Club, it saw many cultural events of note such as concerts by Pablo Cassals and Sergei Rachmananov. Among the Club's patrons were Tom Thomson, Lawren Harris, Frederick Varley, Arthur Lismer, A.Y. Jackson, Franklin Carmichael J.E.H. MacDonald and Frank Johnston.
Behind the Courthouse is Court Square and Park, a pleasant small garden with several trees including several White Pine, the arboreal emblem of Ontario. The Square was once the site of several executions, including the last public hanging in 1905. Today people dine alfresco or quietly relax under the trees.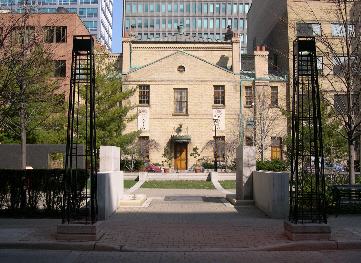 Court Square Park
Much of this information was provided by the Liberty Entertainment Group, who are responsible for the careful restoration of this historic Courthouse.