The Gooderham, or Flatiron, Building at Front and Wellington Streets, was built by George Gooderham in in 1891, predating New York's more famous Flatiron building by 10 years.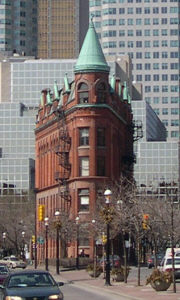 William Gooderham, George's father, came from Yorkshire in 1832, to help his brother-in-law James Worts who had a bakery and mill at Parliament and Mill Sts. In 1834, James committed suicide. He was depressed because his wife had died in childbirth. William Gooderham, took control of the factory and re- named it Gooderham and Worts. (The 'Worts' being for James' eldest son, James Gooderham Worts, who inherited his fathers' share of the firm. In 1837, with a surplus wheat, they tried their hands at producing beer and whiskey from the wheat. The Gooderhams became experts at making good tasting beer and alcohol and, as a result, very wealthy.
In 1843 William Gooderham, built the Little Trinity Church on King E because at the time St. James Cathedral at King and Church used to charge a pews fee and many working class Anglicans couldn't afford to pay it. As their fortunes grew the Gooderhams beginning in 1885 started to build worker-cottages on Trinity and Sackville Streets, but continued to live nearby their workers in a house on the north-west corner of Trinity and Mill Streets. In the late 1800's Toronto become more class conscience. George Gooderham, who had taken over the family business from his father William, built an impressive mansion in 1889, in the Annex on the north-east corner of Bloor and St. George, which is still standing as the York Club. George developed the business into a financial and commercial empire and become the richest man in Ontario. As the distillery flourished he enlarged its facilities and expanded his other interests to included the Toronto and Nipissing Railroad, Manufactures' Life Insurance and philanthropy.
In 1891, desiring more and grander office space, he commissioned David Roberts Jr., to construct the Gooderham Building, at a cost of $18,000. His office was to be on the fifth floor, underneath the cupola. He died on May 1st 1905.
If one goes around to the back of this building one can see an interesting piece of "Trompe.d'oille" art on the back wall.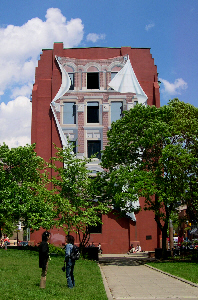 Back of Flat Iron Building June 1, '04
In 1957 the Gooderham estate sold the Flatiron building. In November of 1975 the Gooderham building was designated a Historic site. In 1998 Michael and Anne Tippin took control and the Gooderham underwent a painstaking restoration. For more about The Gooderham Building, the Gooderhams and other interesting people and buildings in old Toronto, see Bruce Bell's History Project.