In 1793, when Sir John Graves Simcoe settled on this area for the new capital of Upper Canada and established the Town of York, the first Anglican service was held "under the trees" attended by the Queen's Rangers stationed at Fort York, with Lt. Smith of the 5th Regiment reading prayers. The first wooden church was built 1807. Until then the congregation used such buildings as were available. John Strachan was appointed "officiating minister" at York and chaplain to the garrison in 1812. The Church was used as a hospital during War of 1812 and sustained damage by American troops. Later it was enlarged and a bell tower was added. In 1828, it was dedicated to St. James the Apostle. In 1830, the wooden church was replaced with a larger stone structure which opened in 1832, but burnt down in 1839. As a result of The Town of York becoming the City of Toronto in 1834, St. James' church was made a cathedral in 1839 and the Reverend John Strachan made the first Bishop of Toronto.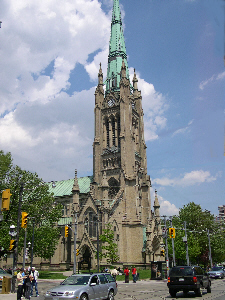 In April 1849, a fire which started in some outbuildings, and spread to envelop a good deal of this part of Toronto. An ember hit the church tower, and St. James' Cathedral was completely destroyed, the second time in just ten years. At this time it was decided to hold an international competition to choose a new design. Frederic Cumberland, the winner, built the existing Gothic Revival building that opened in 1853. It did not yet have a tower and it was not until 1875 that the tower was completed, and bells and clock installed. This tower is the highest church tower in Canada, and today holds a peal of twelve bells unique in all of North America.
From 1883 to 1935 its status as Cathedral was transferred to the as yet unbuilt St. Alban-the-Martyr Cathedral and it reverted to being only a parish church. Over the years many renovations and additions were made. In 1982, Major renovation of the Cathedral were completed.
Much of this information came from the St James' website www.stjamescathedral.on.ca.