Union Station, the major train and subway station in downtown Toronto, occupies an entire block on the south side of Front Street between York and Bay Streets.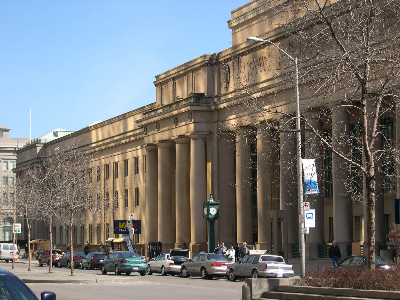 It is and has been the largest and busiest rail station in Canada since it was built. When it was built it was the largest enclosed space in Canada. While work had started on this site in 1904, after the Great Fire had cleared the site, construction was delayed until 1913 and this Union Station was not opened until 1927. For some years a dispute between the railways and the City of Toronto regarding the elevation of the tracks into the station held up progress.
Linked by underground passageway to the Royal York Hotel, it brings back memories of the great days of train travel. Behind its long facade with its central colonnade is the massive lobby, known as the Great Hall, 26.8 meters high and lit from each end by tall arched windows, it is a noted architectural feature. While it was built as a transportation hub for trains, its role was broadened to include the subway in 1954, and later GO Transit. While it continues to serve travellers from outside the Toronto area, its major function is as a commuter terminus. Restoration of Union Station as a transportation hub, heritage landmark and tourist destination has been discussed for a number of years. When political hurdles are cleared, there will still be several years before this project will be completed.
This was the third Union Station The first was located on the north side of the former Esplanade between York Street and the now-vanished Bishop Street, Built in 1858 by the Great Western Railway, it also served other railways including the Northern Railway and the Grand Trunk Railway and thus was the first to qualify as a Union Station. This first Union Station was small and tidy: a single storey of frame construction, it had such amenities as a regular waiting room, a ladies" room, and a barbershop. Its wooden platform faced the tracks on the south side. It was in use until 1871. From 1871 until 1873 it was replaced by a temporary-station west of Simcoe Street and south of Front Street.
Union Station number two was located at the north-east corner of the former Esplanade and Simcoe Street. It was bounded on the south side by the Esplanade, on the west by Simcoe Street, on the east by York Street. This building was a large and beautiful building and a major waterfront landmark. It was made of yellow brick and Ohio sandstone, and had three towers of large size facing over the harbour, and the central tower had clocks on all four sides. Construction began in 1853 and took ten years. It was demolished in 1927, when the present Union Station was opened.
Information from related websites and from "A Glimpse of Toronto's History." MPLS# 161 & 162.