What we call Old City Hall is actually Toronto's Third City Hall. For its first eleven years, the council and administration of the city used temporary accommodations in the market buildings at King and Jarvis where St Lawrence Hall is now. In 1844, the council sponsored a competition for a proper City Hall. That new City Hall is now part of the St. Lawrence South Market and the former council chambers house The Market Gallery. By early 1845, all of the municipal offices and City Council were using it. See The St. Lawrence Market, South Building and The First City Hall.
The nineteenth century was a time of growth for Toronto and, despite a number of renovations, that City Hall became over-crowded. Edward James Lennox was chosen as the architect to build a new city hall at Queen and Bay Streets. He took three years to design the impressive building we see today; as he had to consider the two separate uses prescribed for this building; it was to be both a city hall and a court house. It took eleven years (1889 - 1899) to construct at a cost of more than $2.5 million. When finished it the largest building in the city and also the largest municipal edifice in North America.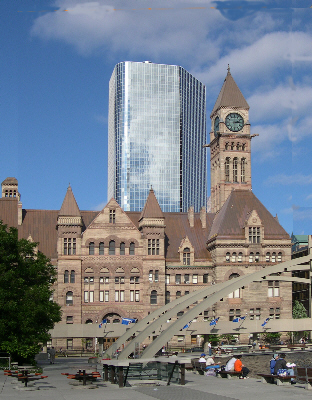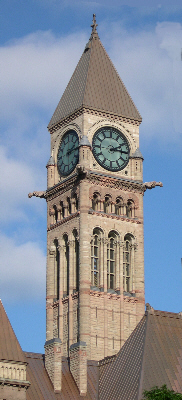 The architectural detailing is impressive. Originally gargoyles spouted from many points. Above the Queen Street entrance, are grotesque stone carvings, which some have suggested were caricatures of councillors. Lennox included himself in the caricatures and his name in the stonework. The interior is also a showplace of craftsmanship. Visitors can still admire this including painted murals by George A. Reid and the McCausland stained glass window. Although it originally housed the Council Chamber, courtrooms, municipal and legal offices, the building now operates solely as a courthouse. The old city Council Chamber is now courtroom 110 and retains much of its turn-of-the- century decoration.
After the opening of Toronto's present, City Hall in 1965, Old City Hall was threatened with demolition. The planners of the Eaton Centre wanted to tear it down, but a group of concerned citizens and community activists called, "Friends of Old City Hall", convinced the city to preserve this important landmark. In 1989, Old City Hall was declared a National Historic Site.
For more about this outstanding building, visit the City's website at www.city.toronto.on.ca/old_cityhall/index.htm