Two significant Toronto educational institutions can trace their beginnings back to The Blue School (also known as The District Grammar School), namely Jarvis Collegiate Institute and Upper Canada College. The Blue School had two locations. It was first located in "College Square," bounded by Adelaide, Richmond, Jarvis, and Church Streets. Later, when Upper Canada College was founded in 1829, the Blue School was refurbished and moved to the south-east corner of Jarvis and Lombard.
In the early days, children's classes were held in private homes. The Home District Grammar School opened in 1807, as one room attached to the Reverend George O'Kill Stuart's home. The grammar schools of those days were what we would now term secondary schools. The Reverend Stuart, the first teacher and minister of the Anglican Church, was not a success. In 1812 Dr. John Strachan succeeded him both as rector and as headmaster of the school. For a while classes were held in a rented barn at King and Yonge streets.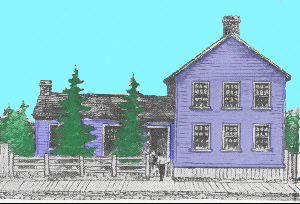 In 1816, The General Quarter Sessions provided £400 for a school, which was erected in the six acre College Square north of St. James' Church. It was a two-storey, 55 feet by 40 feet, frame building facing Church Street and held about fifty pupils. As it was painted blue, it became known as The Blue School. The classroom with its unpainted pine desks was on the ground floor. The upstairs had a platform at the east end and served as an auditorium. As Dr. Strachan was a "born" teacher; enrolment increased and assistants were needed. Various young men, some studying for holy orders under Strachan and living with him, were junior masters. In 1824 Strachan retired from teaching. and went on to a distinguished career in the church and government, He became the first Anglican bishop in Upper Canada in 1839. See also Bishop John Strachan's Palace.
His successor was Samuel Armour, a Glasgow graduate. In 1825 Rev. Thomas Phillips, a Cambridge man, became headmaster. He wore antique clerical clothes with shovel hat, and powdered his hair, except when in mourning. He introduced texts used at Eton. The Greek Grammar having explanations and vocabulary solely in Latin.
Upper Canada College was founded in 1829, but used the Blue School while its buildings were being constructed in Russell Square. It was at this time that the Blue School was refurbished and a one-storey addition built. and moved to the south-east corner of Jarvis and Lombard. For a time the instutions were joined under the name of Upper Canada College and Royal Grammar School. When Upper Canada College's buildings were ready, the combined school moved to the new location leaving the Blue School vacant. The union was stormy; there was controversy over curriculum and ownership of the original site. Eventually in 1834, the Grammar School returned to its old building. In 1864 the Royal Grammar School moved to Dalhousie Street north of Gould and admitted girls. The old building was used as a junkyard, and was demolished in 1870.
In 1869 the trustees bought a site on Jarvis Street, south of Carlton Street, and William Kauffman designed the building named Toronto High School (opened in 1871), which was changed to Jarvis Street Collegiate Institute in 1890. The present school at the south-east corner of Jarvis and Wellesley streets, was opened in 1924. Thus The old Grammar School became the Toronto Grammar School, Toronto High School, Toronto Collegiate, and is now Jarvis Collegiate Institute.
For more information see "A Glimpse of Toronto's History." MPLS#114 and "Original Toronto."