Jesse Ketchum was one of early Toronto's most successful entrepreneurs and a very generous philanthropist.. At age 17, In 1799, he landed in York from Troy, New York, to join his brother and set up business near the docks on Yonge Street. His tannery at the southwest corner of Adelaide and Yonge Streets, stretched along Adelaide nearly to Bay Street, and down Yonge almost to King Street. Ketchum made a great deal of money selling leather to the government. From 1828 until 1834 he was a member of the House of Assembly. A Reformer but not a participant in the 1837 rebellion, he was affected by it and moved his business to Buffalo.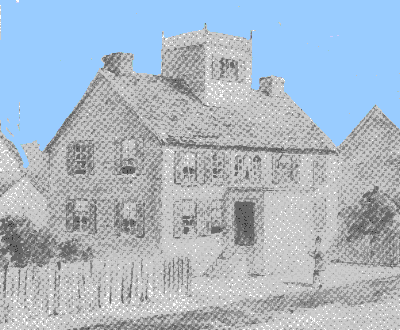 His two story white frame house, which stood at the northwest comer of Yonge and Adelaide Streets, had a flat-topped turret at the centre of the roof from which he could observe traffic in the harbour. He owned the block bound by Yonge, Adelaide, Bay, and Queen Streets and much property elsewhere in Toronto. He laid a path of tan bark along his property so that pedestrians could arrive in dry footwear.
He gave land and money for Knox Church and other religious and educational institutions. Among his donations were six acres in the Second Concession in Yorkville for the building of a school and the development of public parkland. This school, at the corner of Davenport and Bay, still bears his name. In 1837 he donated land to open up Temperance Street through his property, stipulating that alcohol should never be sold on the street.
Information from "Original Toronto" and "A Glimpse of Toronto's History." MPLS#155