1.9 km of Taddle Creek
From Yonge Street to where Taddle Creek entered Toronto Bay near Parliament and Mill Streets. Its one tributary, Moss Park Creek, will be described on a separate page. This creek flowed through the oldest part of Toronto, the village or Town of York laid out on orders of Col. John Graves Simcoe, first Lieutenant Governor of Upper Canada. The streets and blocks are still there; square blocks along King Street, between Jarvis and Berkeley Streets and between Adelaide and Front Streets. King, George, Frederick, and Princess Streets still have their old names.
Pass mouse over map to see hot spots to points of interest.
Click here to see sewers. Double click to remove.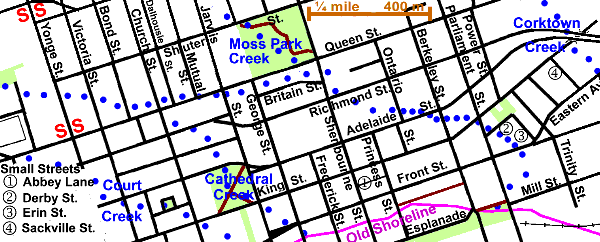 Because of the clay soil and little or no maintenance, these street were frequently in poor shape and the town got the nickname of Muddy York and thus the name of this reach. It is a downtown area with much history, and interesting developments, but the high towers of commerce lie to the south and west. Churches, theatres and hospitals are present as well as commercial enterprizes such as newspaper plants. The site of the second and third parliament buildings in Upper Canada can be found as well as early schools.
Storm water flows in sewers to either the Don River or directly to Toronto Bay. Sanitary sewage flows to the Ashbridge's Bay Sewage treatment Plant via the Low Level and High Level Interceptor Sewers which traverse this area. Tree cover varies from a few tree shaded streets to areas devoid of cover.
An interesting place to start walking this reach is the fountain in the Eaton Centre, which is right on the line of the former Taddle Creek. Before following east along the route of the creek, one might like to detour north to The Church of the Holy Trinity, which marks the site of Teraulay Cottage home of James Macaulay and nearby 6 Trinity Square, the home of the Reverend Henry Scadding between 1862 and 1901. Other places to visit in this neighbourhood, are the Old City Hall and the New City Hall and the site of James Good's Foundry (later Toronto Locomotive Works).
Cross under Yonge Street through the subway station and up the stairs and go east along Shuter Street, past Massey Hall, down Victoria Street to Queen Street. Taddle Creek flowed through this block and through the site of St. Michael's Hospital to the east, then continued east a bit north of Queen to cross to the south side near Jarvis Street and continued east to Sherbourne St. Maps vary; some show it on the south side and some partly on the north side here. Queen Street in this area was not opened in the early days due to the presence of Taddle Creek. Buildings and sites to note along this stretch include: Metropolitan United Church at Church Street, which marks the site of McGill Cottage, the home of Captain John McGill, and the site of Hazelburn, the home of Samuel Jarvis, at Jarvis Street. Hazelburn was set well back from Queen Street, then known as Lot Street, on a slight rise. Its lane, which later became Jarvis Street, ran over a bridge across Taddle Creek.
A notorious well, The George Street Well, where the Cholera epidemic of July 1854 started, was located south of Queen Street at the NE corner of George and Britain Streets. Over seventy people died; several hundred were hospitalised; and 5000 infected but recovered; this was one sixth of City's population then. This tragedy started a movement for an improved water supply, that in time resulted in the modern system of pumping water to water filtration plants and from there to reservoirs and stand pipes for distribution throughout the city.
The tract bounded by Jarvis, Queen, Sherbourne & Britain is labelled "The Meadow" in maps of the early city. See map on Moss Park page. Here Taddle Creek was joined by Moss Park Creek. The bend in Britain Street probably results from the presence of these creeks. William Allan built his home, Moss Park, north of here, west of Sherbourne, between Queen and Shuter. A few blocks east on the south side of Queen Street at Power Street, stands St. Paul's Roman Catholic Church, a pioneer church of that denomination.
From where it crossed Sherbourne at Britain, till it crossed Front Street east of Parliament Street, its course was south-east and is now hazy, or somewhat so, except at Parliament and King where its valley is quite marked. One site along this stretch is Alumnae Theatre which is built in a former fire hall. In order to pass some interesting sites one might choose not to follow closely to the former path of Taddle Creek, but to go south down Sherbourne to Front and east. The first brewery in York was locate on the south bank of Taddle Creek in the block east of Sherbourne between Richmond and Adelaide. The Laurent Quetton St. George House was on the NE corner of King and Frederick. Peter Russell's town house, Russell Abbey, was located at Front and Princess. Abbey Lane commemorates it.
The Sun Publishing building east of Princess and between King and Front is on the site of The York Hotel. The Mural on the south side of the Sun Building showing Toronto transportation through time is well worth examining. One of the gas works that fed the lights of Edwardian Toronto was located south of Front Street between Princess and Berkeley. Its buildings now house Canada Stage's Berkeley Street Theatre and the rehearsal halls of the Canadian Opera. Between Berkeley and Parliament on the north side of Front is the site of St. Lawrence Foundry 136 Front Street East; the First Parliament Buildings in Toronto (second in the Province) lay to the south. Enoch Turner's house gardens and brewery lay to the south of Front and east of Parliament Streets.
Go north on Parliament Street to Derby Street and east to Erin to see Little Trinity Church (1843) and The Enoch Turner Schoolhouse (1848).
Taddle Creek's route from Front Street to the Bay curved west to enter the Bay near Parliament. Maps vary as to the exact location of its mouth. It has been suggested that Enoch Turner straitened it to better serve his business plan. To the east is the Distillery District, now restored with restaurants, craft shops and film studios, where Gooderham & Worts started their whiskey business.