Little Trinity Church, on King Street east of Parliament, is Toronto's oldest surviving church building. While some churches were founded earlier, for example St. James Cathedral in 1797, the original buildings have been replaced.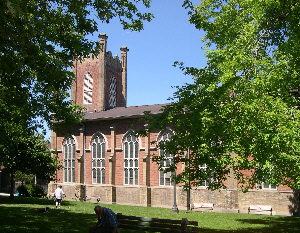 The cornerstone for Little Trinity Church was laid on July 20, 1843, and worship began on February 14, 1844. The architect, Henry Bowyer Lane, designed Trinity Church to be similar to many churches in England built in the early 1800's during the neo-gothic revival. The pointed window arches and the strong vertical lines are typical of Gothic design. The bell tower is 60' tall, Local craftsmen donated the labour and the bricks, which were made from Don Valley clay, to build the structure. Bishop Strachan and wealthy citizens, such as Enoch Turner and Messers Gooderham and Worts, raised the funding. In 1889 the chancel and choir were moved into a south extension. This enlarged the church so that it could seat 600.
In 1961, a fire destroyed the 1889 addition, but it was decided that the reconstruction should follow the design of the original church. A large window was installed behind the communion table, which was moved to its "Elizabethan" position, close to the people. It is a moveable table in accordance with Reformation practice. The rear gallery was restored. The floor of the nave was raised about 4 feet to create a church hall downstairs.
The congregation was established July 12, 1842 to serve the needs of the poor working class Irish Protestants who lived in the East End of Toronto. Toronto had about 17,000 people then, and the suburb where Trinity Church was to be located was thickly inhabited, about 3,000 people, and no church. As the city grew, the church became too small, so it was enlarged in 1889. As the city structure changed, the area became more industrial. The number of local parishioners diminished, but with this change church members now come from all parts of the city. This church with a strong social conscience provided substantial practical assistance to a very poor neighbourhood. The church then operated a soup kitchen in the Thirties and at other hungry times.
It was a loyal British population. More than 560 men of this parish volunteered to fight in The Great War. A small cenotaph commemorates the 63 men who gave their lives. In the Second World War, 55 men went to fight. The names of the five who died are on a plaque inside on the west wall.
For more information about Little Trinity and its congregation go to www.littletrinity.on.ca/.