After first building a town house on Frederick Street, William Allan acquired park lot 5 in 1819, which was then covered in original pine forest. In 1827, he started work on a spacious brick mansion on the west side of today's Sherbourne Street. The house was built in the Greek revival style, with enormous columned pediments at either end. The residence faced cast, and orchards and gardens lay to the north. The ample dining room was eighteen by twenty-four feet and the library was eighteen feet square. Allan reportedly spent a princely £3,248 for the construction of Moss Park, and the same amount again for alterations and furnishings. He continued to improve Moss Park through the 1830s and 1840s. A bath with running hot and cold water was installed in 1841. In 1845, Howard surveyed and built a new road along the eastern boundary and laid out building lots. Known for years as Allan's Lane, it is now Sherbourne Street.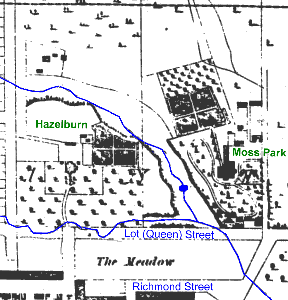 William Allan, born in Aberdeenshire, Scotland, in 1770, was the son of Alexander Allan of the Moss Farm. William settled first at Niagara, but arrived in York in 1795, where he was made the first postmaster and collector of customs. He made a significant portion of his wealth in the early years, outfitting the army and supplying the officers at Fort York, and he eventually became York's most prominent capitalist as a merchant and wholesaler. Allan's Wharf, built in 1802, at the foot of Frederick Street, was part of his enterprize and the first privately built wharf in the city.
Allan was a lieutenant colonel of the militia during the War of 1812. During the invasion of York, his possessions were looted. The compensation he received afterward allowed him to expand operations further. He was probably the wealthiest man in Upper Canada in his day, and his financial advice and management were eagerly sought by other members of the Family Compact. In addition to his business involvements, William Allan was a member of both the Legislative and Executive Councils, and a president of the Bank of Upper Canada.
Allan and his wife, Leah, had ten children, but tragically all but one died in childhood; eight in the winter of 1831-32 of consumption, whooping cough, scarlet fever, and croup.
Only one son, George William Allan, born in 1822, survived. When George married in 1846, his father presented him with the north half of the estate. William lived at Moss Park until his death in 1853. George then moved into the house and began dividing the bulk of the family property as there was a development boom. In 1854, sixty-nine lots were laid out from present day Dundas up to Gerrard for suburban villas. Two curved streets: Wilton and Wellesley Crescents, which were rare for the time, were opened. Pembroke was developed as a tree-lined avenue and was considered one of the city's finest residential streets in its day.
Most of Moss Park had gone to building lots by 1894, including the gardens. George died in 1901. His wife stayed another two years, but after a brief intervening ownership, the city acquired the house and demolished it. Although Moss Park Armoury preserves the estate's name, it actually stands on former Jarvis property.
Information from "The Estates of Old Toronto," "Original Toronto" and "A Glimpse of Toronto's History." MPLS #241.