While the first Parliament of Upper Canada was held at Newark, now Niagara on the Lake, the first to be held in what is now Toronto was here in the north- east corner of the block bounded by Front, Berkeley, Parliament Streets and the old shoreline. The remains of the Parliament Buildings were explored in summer 2000. In 1796, Lieutenant-Governor Simcoe moved the provincial capital to York. The first parliament buildings, constructed between 1794 and 1797, were two Georgian brick buildings with colonnaded porches facing the bay, at that time only a few feet away. Later in 1805, the buildings were connected by a colonnaded walkway. Simcoe, who had left York before the buildings were completed, intended that the Government House would be built between the two buildings. The Legislative Council, the Upper House, with seven legislators used one building, while the House of Assembly with up to sixteen members used the other.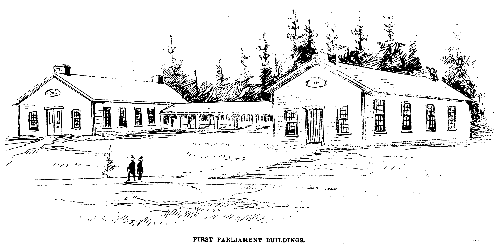 These were Parliament buildings that the Americans burned during their occupation of York from April 27 to May 2 1813. They looted them first and took many books from the library and the mace back to the States. The mace was returned in 1934 as part of the celebrations marking the centenary of the City of Toronto.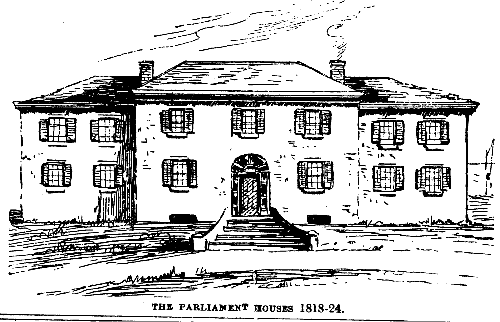 The buildings were rebuilt on the same site by 1820. In the interim, Parliament met in The York Hotel, nearby on King Street west of Berkeley and later in the house of the Chief Justice at the corner of Wellington and York. Unfortunately the new parliament buildings did not last long. They were destroyed, in 1824, by another fire, which started in a chimney, and the site was abandoned. New buildings were built on Front Street, west of Simcoe Street, a more fashionable part of town in those years. While they were being built, Parliament met in the York General Hospital.
Later a courthouse and a "Gaol" occupied this block. Some of this information came from "A Glimpse of Toronto's History" MPLS # 250.