The building on the corner of Adelaide and Berkeley was originally Firehall No. 4. The University Alumnae Dramatic Club (founded in 1919). When the group had their earlier location expropriated by Ontario Hydro in 1972, they were able take over this building (built in 1900) and which, with the assistance of architect Ron Thom, was renovated, restored and made into The Alumnae Theatre of today. Beside a main stage and a studio theatre, it contains a workshop, a wardrobe, backstage and lobby space. The original roof structure and the arched east window of the Fire Hall remain virtually untouched.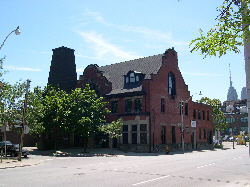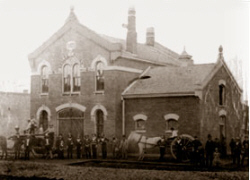 Alumnae Theatre today Berkeley Street Fire Hall in 1870
The University Alumnae Dramatic Club was founded in 1919 by women graduates of the University of Toronto to present the best in classic and contemporary plays and provide opportunities for women in theatre. Since then its membership has broadened to include other communities, but it continues its original mandate.
For more about this building and the University Alumnae Dramatic Club, go to www.alumnaetheatre.com/hist.html