1.5km tributary of Taddle Creek, plus Maple Leaf Stream 800m, Mutual Stream 400m, and two small unnamed tributaries 300m.
This is a thoroughly lost stream. There are few signs that it or its tributaries ever existed; there were a few places where slight dips in a street could mark a former creek, but they could well be imaginary. At one time most of this area was a high class residential. Now while residential structures still cover a good deal of the area, quite a bit is high and low rise and the mansions have largely disappeared. A few enclaves of Victorian housing may be found along side streets. Commercial strips line the main streets. This is an area of mixed structures.
Click here to see sewers. Double click to remove.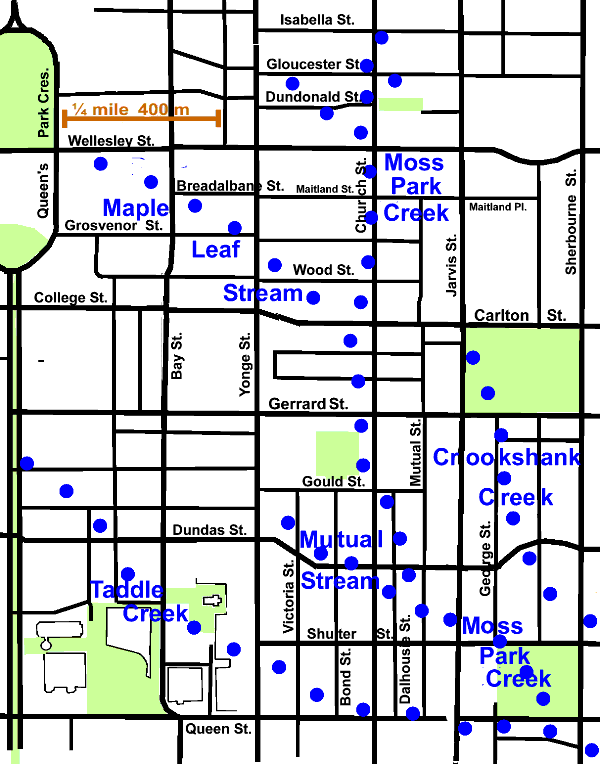 In the late nineteenth century before Rosedale became the "in" address, the north ends of Church, Sherbourne and particularly Jarvis Street was where the leaders of Toronto wished to live. Jarvis Street was said to have three names; at the south end where working class people lived it was "Gervis"; in the middle it was Jarvis; but at the north end where the toffs resided, it was "Jahvis". There were many fine houses in the area, I have noted eight: Homewood - home of George William Allan, Sherbourne Villa (439 Sherbourne, north of Carlton) - the home of Senator George Cox, Allandale (north of Dundas Street) - Enoch Turner's home in later life, Moss Park - the home of William Allan, Hazelburn, the home of Samuel Jarvis, Wykeham Lodge (College and Yonge) built by James Buchanan Macaulay; the Paul Kane House and Mackenzie House (the later life residence of William Lyon Mackenzie).
Except for the parks and the enclaves of Victorian housing, tree cover is sparse. Silver and Norway Maple, Honey Locust, Linden, Austrian Pine, Horse Chestnut and White Birch were noted. Storm water flows to the Don River and sanitary sewage to the Ashbridges' Bay Sewage Treatment Plant. The Mid-Toronto Interceptor Sewer passes through this area along Gerrard Street.
To walk Moss Park Creek start at Isabella and Church Streets, where this stream had its source, and walk south along Church Street. At Dundonald it was met by a short unnamed tributary that started on Gloucester a bit east of Church. Just north of Wellesley, a second unnamed tributary joined, which had started a bit south and east of Gloucester and Yonge Streets. The Paul Kane House may be see on the north side of Wellesley west of Church. Homewood one of the great houses of early Toronto was located a block and a half east of Church near Sherbourne; later this was the site of Wellesley Hospital. Toronto's oldest School, Jarvis Collegiate, is now located at the SE corner of Jarvis and Wellesley Streets.
Continuing down Church Street, just north of Carlton Street, we reach Maple Leaf Gardens, the former home ice for The Toronto Maple Leafs and the venue for many others events. Here a longer tributary, Maple Leaf Stream (800 metres) joined. This stream had started near Wellesley and Queen's Park, crossed bay at Breadalbane Street and Yonge at Grosvenor. Four points of interest close to this stream along College Street are: Toronto General Hospital, Women's College Hospital, Victoria Hospital for Sick Children and Wykeham Lodge.
Moss Park Creek continued south on the west side of Church. entering what is now Ryerson University at Gerrard Street. At Gould Street it crossed Church to flow close to Dalhousie Street until it crossed Mutual Street between Dundas and Shuter Streets. Here it was met by its fourth tributary, Mutual Stream. This started close to Yonge Street north of Dundas. Mutual stream crossed Dundas at Bond Street along which there are three historic buildings of particular interest: The Hellenic Orthodox Church of St. George, formerly Holy Blossom Synagogue (1897 to 1937); First Evangelical Lutheran Church; and Mackenzie House, the later life home of William Lyon Mackenzie, the first Mayor of Toronto.
Moss Park Creek continued east to enter Moss Park at George Street. Moss Park is named for Moss Park, the home of William Allan. Near the SW corner of this park is "The River of Grass," one of Evergreen's "Where Edges Meet" project sites.
South of Moss Park and Queen Street Moss Park Creek joined The Taddle in what was in early years know as "the Meadow". Continue on down the Taddle along the Muddy York Reach.