In 1892, industrialist Hart Massey hired architect Sidney Badgley to design "an auditorium – spacious, substantial and comfortable, where public meetings, conventions, musical and other entertainments, etc., could be given." This was to be a memorial to his son Charles Albert Massey and venue that would "aid in the development of the arts." The cornerstone was laid Sept. 21, 1893 and on June 14, 1894, A five-concert festival marked its inauguration. The first concert on June 14, featured Handel's Messiah performed by a 500-member chorus with the 70-member "Grand Festival Orchestra" conducted by Frederick Torrington.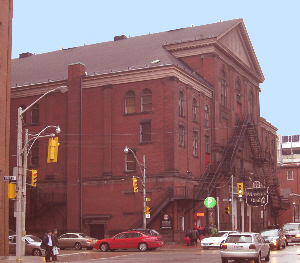 Massey Hall underwent major renovations in 1933 when seating is reduced from 3,500 to 2,765; a new lounge is created behind the first gallery; the ground floor entrance area is enlarged; the ageing, flammable wooden stairs are replaced with stone and steel;
Massey Hall became internationally famous as Canada's most important venue for concerts and lectures, attracting many of the world's leading celebrities; it also hosted weddings, movies, boxing matches, beauty contests, religious and political rallies etc. It was the home of the Mendelssohn Choir, first concert Jan. 15, 1895, and The Toronto Symphony, first concert Apr. 23, 1923, for many years, till the latter moved to Roy Thompson Hall in June 1982. It came back for part of 2002 while it new home was being renovated. Among the personalities that performed here were: Robert Peary (who told a packed house in February 1908 about his quest for the North Pole); Enrico Caruso (during his 1920 visit, he went outside onto the fire escape to sing an aria to the crowd that couldn't get in); Arturo Toscanini (who conducted La Scala Orchestra here in 1921); Oscar Peterson and Glenn Gould (who both made their Massey Hall debuts in May 1946; legendary jazz immortals, Charlie Parker, Dizzy Gillespie, Bud Powell, Charles Mingus and Max Roach ( who played together here May 15, 1953 for the only time in their lives); Bob Dylan; Gordon Lightfoot (who had the most solo appearances at the Hall of any performer); Seiji Ozawa (who conducted the Toronto Symphony Orchestra for five years); Luciano Pavarotti; Maria Callas; and The Dalai Lama.
The City of Toronto declared Massey Hall a "heritage" building on June 20, 1973 as part of the city's first list of "heritage" sites. It remains a vital part of Toronto's cultural and entertainment scene.
This information came from the Massey Hall web site which can be visited at www.masseyhall.com/mh_thenNow.cfm.