The Church seen here at Queen and Power Streets is not the first one. The first one, competed in 1824, was red brick, and designed by John Ewart, who later built St. Andrew's (Church of Scotland) 1830, and, in 1839, rebuilt St. James' (Church of England). The first St Paul's faced Power Street and had Georgian proportions, but the lancet windows gave it a romantic Gothic air.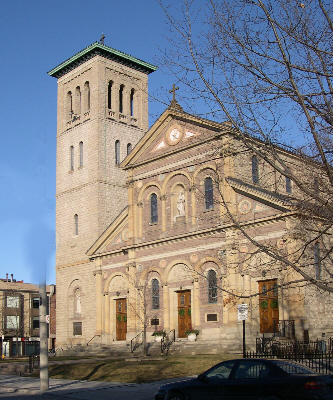 There were few Catholics in the early Town of York; by 1818 there were only about 200, most of whom lived south of King Street and west of the Don River. The local Catholics obtained a grant of land in March 1806, for a chapel, north of Duke (Adelaide) Street and east of George Street. In 1807 the congregation was organized in the home of Dr. James Glennon, with Alexander McDonnell, Speaker of the House of Assembly, and Laurent Quetton de St. George, merchant, as trustees. There was no priest. Services were held in private homes when a travelling priest was available. In 1821 the trustees, whose chief was now James Baby, Inspector General, sold the Duke Street lot, which was too small for a church, rectory and cemetery, to Sir William Campbell for £265. With the proceeds, they bought ten acres on Lot (Queen) Street, east of modern Power Street. John Ewart was engaged to draw plans for the church. St. Paul's Church was opened in 1824 and completed in 1826, and was the only Catholic parish between Kingston and Windsor. The building was of red brick, 90 feet by 46 feet, and faced Chapel (Power) Street. The long sides, of lighter coloured brick, worked in a diamond pattern by the bricklayer Thomas Bond. Ewart's church had dignified Georgian proportions, but his lancet windows gave it a romantic Gothic air. It is interesting to compare St. Paul's with Ewart's later York churches: St. Andrew's (Church of Scotland) 1830, and St. James' (Church of England), which he rebuilt in 1839.
The first two resident priests of St. Paul's were Rev. James Crowley from 1824 to 1826, and then Rev. Angus McDonnell. In 1828 Rev. William O'Grady, who had a church in Ireland, visited York and offered his services for a year. He was good at raising funds to pay the church debt, but became deeply involved in politics. He was a supporter of William Lyon Mackenzie. Bishop McDonnell rebuked him, for using the pulpit to preach radical ideas, but he ignored this warning and continued. The bishop deposed him for insubordination, but he refused to leave and locked himself inside the church. St. Paul's Church was then placed under a solemn interdict and there was turmoil and unpleasant publicity. The interdict was not against the congregation, and they were able to hear Mass, make confession, be married, or baptized at the bishop's house at the south-west corner of New and Duchess streets, now Jarvis and Richmond. At St. Paul's, O'Grady admitted his few followers by the back door, to rival services in the church. Finally O'Grady left the church to found a radical newspaper, The Correspondent. Mackenzie's Colonial Advocate was merged with it in 1834. The interdict was lifted and in 1833, the Reverend W.P. McDonagh replaced Rev. O'Grady. St. Paul's was the only church in the province ever to be placed under an interdict.
By 1842 the parish had grown to 3000, and when Michael Power chose Toronto as the seat of his newly created Diocese of Western Ontario, St. Paul's became a cathedral and remained that until St. Michael's Cathedral was built. Right Reverend Michael Power, DD died of typhus, while caring for the Toronto victims in the terrible epidemic of 1847. St. Paul's Church was immediately north of the House of Providence, which was erected in 1854. A rectory was built in 1860 beside the church.
A splendid new stone church, north of the old brick St. Paul's, was begun in 1887. It is the only church in the Italian Renaissance style in Toronto, complete with campanile. It was designed by Joseph Conelly, RCA, in Papal Basilica form and dedicated in 1889. Its interior is famous for the beautiful ceiling paintings depicting the life of St. Paul. The old brick church, with a chapel added to the east end, became the parish hall, but was demolished about 1904 to make room for a new rectory (which in its turn had to make way for the expressway ramps). The cornerstone of the new parish hall was laid in 1914.
Information from "Original Toronto."