McGill Cottage faced down to Lot Street, between present-day Bond and Mutual Streets. Henry Scadding said in "Toronto of Old:" "Situated in fields at the southern extremity of a stretch of forest, the comfortable and pleasantly- situated residence erected for him for many years seemed a place of abode quite remote from town." The house was a spacious one-and-a-half-storey Regency cottage with centre gable and a broad veranda. The southern part of the property was a working farm. Behind the house, woods stretched up to modern Bloor Street. Hunting parties frequently ventured into McGill's bush in search of deer and small game. During the American invasion of 1815, the ladies of York took refuge at McGill Cottage. Metropolitan United Church is built on the site of McGill Cottage.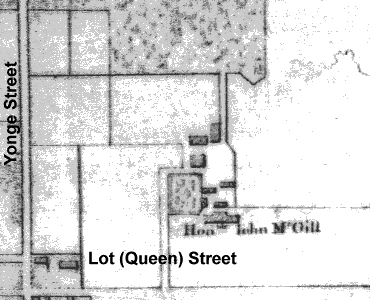 Captain John McGill, born in Auckland, Scotland, was another man who served under Simcoe during the American Revolution,. After that war, he settled in New Brunswick, where married Catherine Crookshank, sister of George Crookshank. The McGills moved to Upper Canada in 1792, where he became Commissary General of Upper Canada. He also served as Receiver General from 1813 to 1819. By 1799, he had received several land grants, including a town lot and park lot 7. Preferring the suburbs, McGill built his home there in 1803. He paid his carpenters with land that he owned in Scarborough. As Commissary General, he supplied the carpenters and materials for the building of the Parliament Buildings at Front and Parliament.
As he had no heir, he bequethed his land to his nephew, Peter McCutcheon, on the condition that he change his surname to McGill. Peter McGill sold off portions of the property starting in 1836. Church Street was extended north of Queen. Shuter, Crookshank, Gould, and Gerard Streets, named for McGill's friends and relations. Mutual Street was surveyed by John Howard as a shared road between the McGill property and the Jarvis estate. However, McGill Street was not named for Captain, but for Ann McGill, wife of Bishop Strachan.
Most of the housing erected in the 1850s were built on speculation for the middle-class market. An exception was architect William Thomas' Oakham House, which he built in 1848. A large block was purchased by the Province in 1850 for a normal school which is now part of Ryerson Polytechnic University. It was Ontario's first training institution for elementary school teachers. "The Toronto Normal and Model School 1851 to 1962
This central facade has been left standing to commemorate the long and close association of St. James Square with education in the Province of Ontario. Here Egerton Ryerson superintended the work of the first Department of Public Instruction in Upper Canada. Here generations of teachers prepared themselves for careers in education. Here thousands of armed forces personnel were re- trained for civilian life after World War II. Here was founded in 1948, the Ryerson Institute of Technology, which pioneered a whole new level of education in this province."
Peter McGill died in Montreal in 1860, but his brother lived at McGill Cottage until 1870. In that year, McGill Cottage and the two acres surrounding the house were purchased by the Wesleyan Methodists.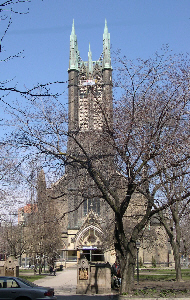 Here they built Metropolitan Church, now Metropolitan United. This "Cathedral of Methodism" was designed by Henry Langley in the High Victorian Gothic style. The cornerstone was laid by the Rev. Egerton Ryerson, D.D., in 1870 and the church was dedicated in 1872. It replaced an earlier structure at the southeast corner of Adelaide and Toronto Streets. The inaugural service of the Methodist Church of Canada was held here September 16, 1874. The 1911 World Ecumenical Methodist Conference took place here. The first General Council of the United Church of Canada met here in 1925. The church was badly damaged by fire in 1928 and rebuilt, incorporating most of the original walls, tower, narthex, and much of the stained glass. A plaque at the gate states: "Metropolitan United Church is the descendant of a small, frame chapel built in 1818 on the corner of King and Jordan Streets, now the site of the Canadian Bank of Commerce building. Metropolitan Church was erected in 1870, and the interior was rebuilt in 1929,
following a disastrous fire. It now stands, together with the church house, as a symbol of Christian witness and service in downtown Toronto."
For more about McGill Cottage and the McGills see "Original Toronto" and "The Estates of Old Toronto."