This walk connects Yellow Creek's Vale of Avoca Reach with Mashquoteh Creek and the Nordheimer Reach of Castle Frank Brook. The text is from notes for a walk that has been repeated several times with modifications to suit the occasion. The main objective was to celebrate the many fine trees we have in this city and the City's policies that protect them. Also observed were other examples of natural & built history in this fine neighbourhood. The map shows the location of the old White & Red Oaks and some other interesting trees in Deer Park. Also shown are streams, both the existing one and those long lost and other points of interest, including the main stations where we stopped to discuss issues and points of interest. (Run mouse over map to see hot spots for points of interest and stations).
This area is well served by public transportation. The first stop is a block east of St. Clair Subway Station on the south side of St Clair. If one ends at Avenue Road and St. Clair, one can take the Avenue Road Bus, the St. Clair Street Car, or walk back to take the Subway. An extention is described down Avenue Road and Poplar Plains Road, past the High Level Pumping Station which ends at Daveport and Dupont, served by both the Bay and the Dupont Busses.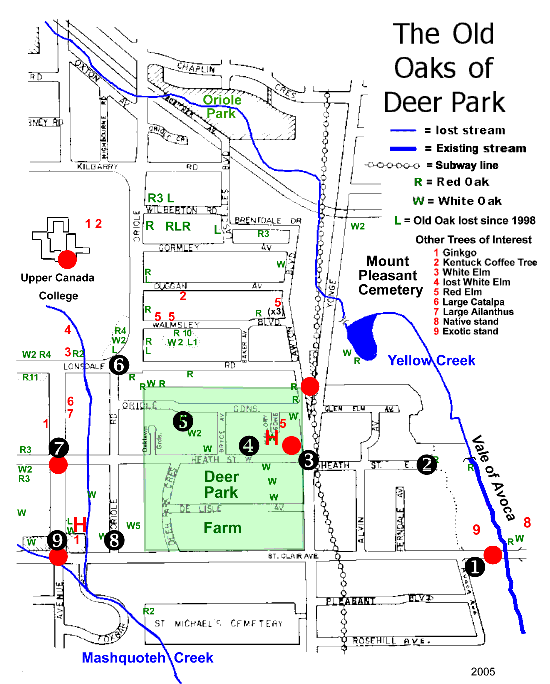 1. Vale of Avoca
The first stop is above the Vale of Avoca, a ravine named for a valley in County Wicklow, Irland and the poem by Thomas Moore www.valeofavoca.com. Through it flows Yellow Creek, a tributary of the Don River, which started in the Downsview highlands and now flows into the Don north of the Prince Edward Viaduct. Other names for Yellow Creek are Rosedale Brook and Silver Creek. This valley is described on the "Vale of Avoca Reach" page. The bridge we are about to move onto, the St. Clair Viaduct, was built in 1924 & renovated 1985. It replaced the previous steel bridge built in 1890 which crossed the valley from Pleasant Boulevard to St. Clair. This bridge provides a vantage point to observe and appreciate our ravines from above. (Go to the north side of the bridge about half way across and look over to the north). Here we see at two different typical Toronto stands:
GOOD STAND On our right on the east side of the creek, we see a small stand of White & Red Oak, Basswood Ash, White Pine, Beech, Black Cherry, & Hemlock is close to what would have been seen before settlement when forests covered all of southern Ontario. It is a precious reminant.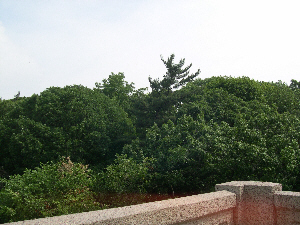 FLAWED The new growth forest on our left, on the west slope, is largely made up of exotics, including Norway Maple, Crack Willow, Horse Chestnut, Mulberry & Black Locust. The two prominent native tree species are Manitoba & Silver Maples, which while they have a role in the forest are not normally as dominant as they are here. The vigorous presence of Norway Maple, a invasive exotic, in this and many other ravines is very troublesome. The City has several projects to remove some undesirable exotics and encourage native trees.
(Walk behind Deer Park Public School) Although this building was only constructed in 1961, there has been a public school at Deer Park since 1889, when York Township Council erected a two-room school where this apartment building now stands. Return to Map.
2. Heath Street East
Heath Street East was once called "Clarence Ave." This street has significant diversity of trees: Red & Pin Oak, Silver, Red, Sugar, & Norway Maples, Horse Chestnuts, Honey & Black Locust, White Pine, White Cedar, White & Chinese Elm, Linden, Crab Apples, Colorado Spruce, Mountain Ash, Cherry, Yew, Japanese Lilac Tree, Mulbery, White Spruce and Russian Olive.
When preparing for the first of these walks in 1998, I counted 80 species of trees found in or close to Deer Park (7 maples 5 pines 5 locusts 5 oaks 3 spruces and 25 others). Half of these species were introduced, which shows one of the influences of cities on species diversity. In fact if number of species was the answer to diversity, our cities would come out "smelling of roses." But this is only part of the story; genetic diversity and strength within species, is as important as number of species and planted exotic species tend to be limited to named cultivars which may be clones of a few individual trees. Also there was, and still is, a species imbalance; for example of the over 90,000 street trees on the streets of old Toronto, approximately half were maples and these mostly Norway Maple, 7,000 were Silver Maple and only 1900 Sugar Maple. There were 6,000 locusts (largely Honey Locust); 5700 Ash; 4300 spruce (largely Colorado); and 4700 others.
As we walk along, look up into the crowns of the trees. Each species has its own character. It has been said that most of the characteristics we value in trees (shade, wind alleviation, pollution abatement. aesthetics) are proportional to leaf area and thus large trees, with their greater leaf area, deserve greater protection. Do you agree?
3. Heath and Yonge
Yorkminster Park Baptist Church Built 1926-8; Canada's largest Baptist Church. Note the Black Walnut at its steps.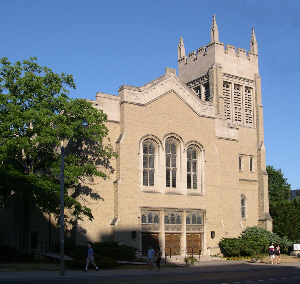 Yorkminster Park Baptist Church
Christ Church Deer Park. The third Christ Church Deer Park structure, was built at the NW corner of Heath and Yonge in 1922-23. The first frame and second brick structures were built in the gore between Lawton Boulevard and Yonge Street north of here. The White Oak and Red Oak standing beside the church are good examples to show how these species differ.
Deer Park Farm: We are standing on what was originally a 200 acre farm lot (lot 21 in the third concession from the Bay) granted by the Crown to Baron de Hoen in 1802. (It ran north from St. Clair to Eglinton). He sold 150 acres to Mary Elmsley in 1810, who in turn sold the south 40 acres to Agnes Heath in 1837 for £1050. The Heath home is thought to have been near the intersection of Deer Park Crescent and Heath, but it may well have been much closer to St. Clair. For years, a tame herd of deer roamed through the area, so she called her estate "Deer Park." This was one of the first properties in this part of York Township to be subdivided into housing lots. Charles, Agnes Heath's son, subdivided it into 33 lots.
Colonel Carthew bought five of these lots facing Yonge Street and built his home Lawton Park here in 1847. Lawton Park was demolished in 1935, to make way for the apartment buildings we see north and west of the church. Return to Map.
4. Heath Street West
There are several notable houses along this stretch described in "Historical Walking Tour of Deer Park," by Joan C. Kinsella.
32 Heath "The Neuk," John Palmer, the last owner of Lawton Park, built a house for his daughter, Mrs. Henry Baird, on his land. This large white brick house still stands here and is used today by the Canadian Mothercraft Society as a day care centre and school. Note the sculpture "Mother and Child" by Florence Wyle, (1947), at the front door.
42 Heath - gained nation-wide coverage when Edwin Boyd, Canada's most notorious bandit and leader of "The Boyd Gang," was captured here March 15,
(JK#21B) Black Locust.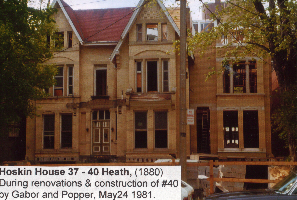 37, 39 & 41 Heath Street West, Hoskin House built 1880; Altered and added to by Gabor and Popper, 1981. The eastern two units in this building #37 & 39 date back to 1880, when it was the first house to be built on the south side of Heath Street in this area. # 41 was added in 1981, but has been designed so cleverly that it appears to be part of the original building. This house was first owned by Alfred Hoskin, barrister: Architects Peter Gabor and George Popper, who restored much of the original grandeur, were given an "Ontario Renews Award" for the renovation project.
50 Heath 1923. This one-storey white house is an excellent example of Frank Lloyd Wright's influence on builders from about 1910 to 1930. The emphasis on geometry, with flat roof, deep eaves with square cornice, grouping of casement windows and strong comer piers with square-on-square motifs is characteristic of the Ontario Prairie style.
55 Heath; Willis House, 1888 This Victorian house with its steeply pitched roof, broken by an eyebrow dormer window, and two-storey bay, separated by a wooden scrollwork frieze is listed in The City of Toronto inventory of Heritage Properties for its architectural importance. The stained glass transoms in the lower bay are possibly the work of the first owner, John Willis, a stained glass manufacturer. Neighbouring houses also interesting
The Deer Park Sanatorium (# 72 Heath St. now demolished). This was a large three storey white brick building, one hundred feet long and forty feet deep. In 1897, Dr. D. C. Meyers bought it & turned it into a private hospital employing a staff of twenty-two. He operated it until his retirement in the early 1920's, when he converted it to an apartment building, called Heath Manor. It has since been demolished and apartment buildings erected (70, 80 & 90 Heath St. W.) Return to Map.
5. Magnificent White Oaks
on Oriole Gardens; "just look up".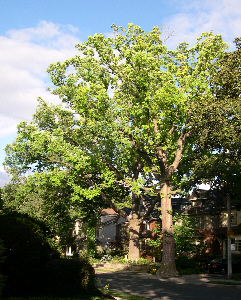 White Oaks on Oriole Gardens
White Oak is a disapearing species. It is not regenerating naturally for two chief reasons; most are old and not producing large crops of acorns; the acorns that do mature are tasty to squirels and the few small tres that do grow are eaten quickly. The First Nations made a flour from White Oak acorns. This could be a good place to discuss the City's tree policy.
It is said that the houses along Oriole Gardens to the west were built as residences for the staff of The Deer Park Sanatorium. Return to Map.
6. Lonsdale Road
Upper Canada College, founded in 1829, was one of the first institutions of secondary education in the Province. When it moved here to Deer Park, its new surroundings were vastly different from King and Simcoe Streets where it had been, and from Deer Park today. Threshing took place in fields west of the College and there were dairy farms along St. Clair Avenue. The UCC grounds are a fine place to look at the form or skeleton of trees. Gingko, Planted Red & Bur Oaks, Austrian Pine, Honey Locusts, Along west fence 5 Silver Maple, 1 Norway Maple 1 Sugar Maple 2 Silver Maple, more Elm & Maple along road.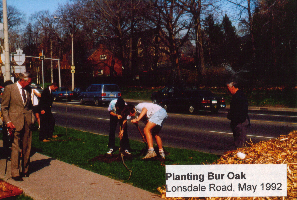 Note dip in Lonsdale marking Mashquoteh Creek and thirteen Bur Oak planted in 1992.
(Walk down Avenue Road from Lonsdale to Heath)
#619 Avenue Road: Cluster of Black Locust, European Weeping Birch.
#609 Avenue Road: Large Catalpa & Ailanthus, about four feet in diameter.
#150 Heath: female Gingko; Silver & Norway Maples & Black Cherry etc.
7. Mashquoteh
Mashquoteh House & Creek.
Mashquoteh, stood just south of where Avenue Road and Heath Street now cross, over looking a small stream flowing through the valley to the east. It the home of William Baldwin where he lived with his second wife and sixteen children. Mashquoteh comes from the Ojibway & means "meadow or woodland opening where deer come to feed."
(Go along Heath Street). Look north and south to see valley of Mashquoteh Creek.
8. Oriole Road
Walk south from Heath to St. Clair. Pass through a significant cluster of White Oak (see map), Some are behind the apartment buildings. Several were open grown and have spreading crowns. Other trees include small Smoke Tree, small Bur Oaks, Horse Chestnuts and other street trees. Signs of the stream valley can be seen to the west. Along this street you may see yellow fishes painted on the sidewalks near grates. This was done as part of the Yellow Fish Program to raise awareness of the storm sewers. Return to Map.
9. Amsterdam Square and Glenn Gould Park
At St. Clair walk west to Amsterdam Park at the north-east corner of Avenue Road and St. Clair. In the spring beds of tulips mark this corner.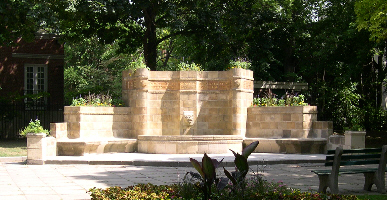 In this park, there is a replica of the fountain at the Peace Place at The Hague donated by H.H. Williams, wealthy real estate agent. Trees in the park include: Norway Maple, Sugar Maple, White Pine, Gingko (male), Honey Locusts and Lindens. North of the park look at the G. H. Ferguson House at #555 Avenue Road. This house built in 1930 by George Howard Ferguson, Premier of Ontario, is now the Consulate General of the Republic of Korea.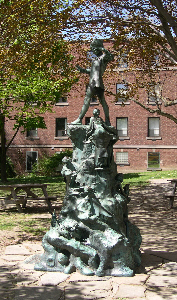 Statue of Peter Pan in Glenn Gould Park at NW corner of Avenue Road and St. Clair.
On the north-west corner of Avenue Road and St. Clair, there is another small park that has recently been named in honour of the internationally famous pianist, Glenn Gould. Mr Gould lived nearby in an apartment at 110 St Clair Ave. W. In this park is an copy of the well known statue of Peter Pan in Kensington Gardens, London England, installed by the College Heights Association in 1929. Donald Jones has written about both sculptures in chapter 35 of "Fifty Tales of Toronto." Trees in this park include: Hackberry, Mulberries, Beech and, White Oak.
Once standing at the corner of St. Clair Avenue and Avenue Road, the writer noted an unexpected number of links to other parts of the world. He counted eight starting with Amsterdam Park and Peter Pan. Knowing of others in the area, made this a theme for a walk through Deer Park and now a web page "Cities of the World".
Addenda
This can be the end of the walk or one can continue on along Mashquoteh Creek. Another choice is to walk down Avenue Road, across to Poplar Plains Road to end at Davenport and Dupont, noting the following in passing.
The Town of Yorkville built a reservoir where Brown School stands.
Balmoral, Farnham & Clarendon Avenues get their names from places in Britain. See Farnham Lodge. Clarendon England was the site of the Assize of 1166, an important step in the evolution of our judicial system. See www.fordham.edu/halsall/source/aclarendon.html
Oaklands was built in 1860, by John Macdonald, Toronto businessman and politician, It was enlarged by Mary McCormick, heiress of the McCormick fortune, in the early 20th century and is now De La Salle "Oaklands," a private co-educational school.
Avenue Rd. hill the shore bluff of Lake Iroquois.
Benvenuto was built in 1888 by Simeon Janes, a leading real estate developer. The wall, still standing along Avenue Road, is representative of the stonework of Benvenuto. Follow Poplar Plains Cres. or Edmund St. to Poplar Plains Road.
Rathnelly House, which stood on the hill just east Poplar Plains Road, was the home of William McMaster, one of Victorian Toronto's most successful capitalists. Among the many institution he supported was The Baptist College, McMaster Hall. The building is now the Royal Conservatory of Music, but the college was moved to Hamilton and is now McMaster University.
Walk down Poplar Plains Road to Davenport Road. This was likely part of an old aboriginal trail. You will pass the High Level Pumping Station which houses the Central Control for pumping all the water for the City of Toronto.
It was built on the site of the Yorkville Waterworks, built in 1875, along the Castle Frank Brook, at the end of the Norheimer Ravine, to provide a supply of pure water for domestic and fire protection purposes to the Village. The waterworks equipment was meant to be as efficient and as economical as any in the province but when this failed to be the case, a good water supply became a strong reason for annexation.
Follow Daveport to Dupont, where one can take either the Bay or the Dupont Bus.