3.4 km (1.5 km traceable)
From the Upper Canada College campus, south to the corner of Avenue Rd. & St. Clair, and south-east to cross Yonge at Walker Ave., close to its entrance to Lake Iroquois. It probable joined Castle Frank Brook in Severn Park, behind Rosedale Subway Station, but its course between Walker and Crescent Road is very hazy. Present drainage is through storm and sanitary sewers that bear little resemblance to the original. (To see points of interest run your mouse over the map.)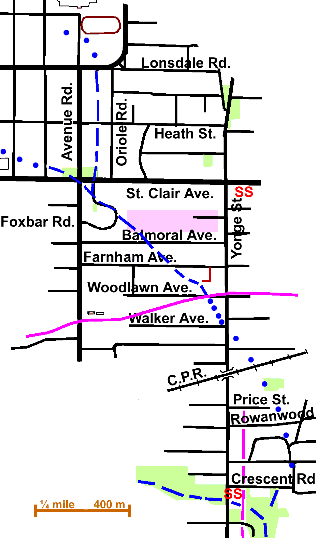 To follow Mashquoteh Creek, start on the Upper Canada College Campus near main entrance. This is a fine place to look at the form or skeleton of trees. Along the main road is an avenue of recently planted Red & Bur Oaks. Visible along the west fence are (from south to north) five Silver Maples, a Norway Maple a Sugar Maple more Silver Maples and Elms. There is a cluster of fine old Oaks at main entrance. Austrian Pine, Gingkoes, & Honey Locusts are also present. The source of Mashquoteh Creek was to the west of the main road. It crossed the road and turned south passing under the location of the hockey arena and east of the residences to cross Lonsdale Rd. where there is a dip. Note planted Bur Oak and Amur Maple along Lonsdale.
Walk down Avenue Road to Heath. Note cluster of Black Locust and European Weeping Birch at #619, the Large Catalpa (110 cm DBH) & Ailanthus (108 cm DBH) at #609 and Mulberry & Junipers at #585. #150 Heath Street West has several interesting trees: a female Gingko, Silver & Norway Maples & a Black Cherry. The intersection of Avenue Road and Heath Street marks the former location of one of the fine estate houses of this area, Mashquoteh, which stood over looking the creek. Its valley is still noticeable along Heath St. Mashquoteh comes from the Ojibway & means "meadow or woodland opening where deer come to feed." Go along Heath Street to Oriole Road, looking north and south to see the stream valley. Trees include Crab Apple Honey Locust, Norway Maple and Linden.
Follow Oriole Road to St. Clair Avenue. We pass through a cluster of fine old White Oaks, some behind apartments some open grown & spreading; also Small Smoke Tree, Cherries, small Bur Oaks, Horse Chestnuts and other street trees. Signs of the stream valley can be seen to the west.
At St. Clair walk west to Amsterdam Park at the north-east corner of Avenue Road and St. Clair. In the spring beds of tulips mark this corner. In this park, there is a replica of the fountain at the Peace Place at The Hague donated by H.H. Williams, wealthy real estate agent. Other trees in the park include: Norway Maple, Sugar Maple, White Pine, Gingko (male), Honey Locusts and Lindens. North of the park look at the G. H. Ferguson House at #555 Avenue Road.
On the north-west corner of Avenue Road and St. Clair, there is another small park that has recently been named in honour of the internationally famous pianist, Glenn Gould. Mr Gould lived nearby in an apartment at 110 St Clair Ave. W. In this park is an copy of the well known statue of Peter Pan in Kensington Gardens, London England, installed by the College Heights Association in 1929. Donald Jones has written about both sculptures in "Fifty Tales of Toronto."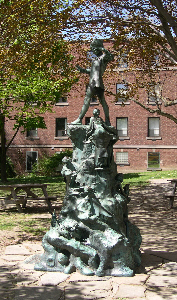 Statue of Peter Pan in park at NW corner of Avenue Road and St. Clair.
Mashquoteh Creek crossed St. Clair at or near the east side of Amsterdam Park and then flowed down Foxbar. A short side stream came in from the north west, which probably started at Warren Road. The Mashquoteh Creek valley may be traced along Foxbar and then across the south west corner of St. Michael's Cemetery, which can be seen from the parking lot behind the Imperial Oil Building. Further south it can be recognized by the dips along Balmoral and Farnham. Walk south on Avenue Road, and east on Farnham Ave. Silver Maple is the dominant tree on Farnham, but there are also Norway Maple, Norway Spruce, White Spruce, Elm, Green Ash, White Oaks and Lindens. Farnham Lodge, (at #50) was named after a town in southern England. In fact, many of the estates of the early settlers north of Toronto were named for towns and estates in England. After annexation into the city many streets in this area were named after settlers or their estates. This is how Farnham Ave. got its name. At one time the Radial Railway along Yonge St. that later ran as far north as Lake Simcoe had its southern terminus at the end of Farnham.
Try to see the Mashquoteh Ravine behind houses on south side of Farnham Ave. Before reaching Yonge Street, just west of York School, take a lane south and a bit west to where one can overlook the ravine and mouth of Mashquoteh Creek into Lake Iroquois. The hill formed by Lake Iroquois was at one time called Gallows Hill where it crossed Yonge St. There are White & Red Oaks, Horse Chestnut, Ash and Norway Maple here. Return to Farnham and down Yonge Sreet to Woodlawn Ave. A little way in on the south side of the street is a condominium built in the shell of a former Armenian Church. If one goes further west to the driveway between #33 & # 37 Woodlawn Ave. one can see Woodlawn, Toronto's second oldest residence still in use as a private home.
From Woodlawn Ave. to Crescent Road nearly all traces of this former stream have been obliterated. A small park at the end of Price St. is a possible sign of the stream's course. Walk east on Rowanwood Ave. and south on Cluny Drive. There are some gentle dips along Cluny Drive which might mark the former channel. Go west on Crescent Road. Street trees on Crescent Road and other streets in this part of South Rosedale include: Silver Maple, Norway Maple, Elm, Linden & Honey Locust. About 80 or 90 metres east of the Rosedale Subway Station on the south side of Crescent Road there is a truncated ravine which is likely the end of the Mashquoteh ravine, where it enters the Rosedale Valley in the Yorkville Reach. The trees in this bit of ravine are mostly Ash and Norway Maple near Crescent Rd. At the Severn Park end there are other trees including Red and White Oaks. One Shagbark Hickory was seen. Two historic houses Chestnut Park and Thornwood were locate along this stretch, as is the former North Toronto CPR Station.