In its day, Lawton Park, also known as Huntley Lodge and the Fisken House, was one the city's grand homes set on beautifully landscaped grounds with a driveway sweeping in a. large circle to gates on Yonge St. where Christ Church Deer Park now stands. Agnes Heath's son, Charles had subdivided the Deer Park farm into 33 lots. This was one of the first properties in the area to be subdivided. Colonel Arthur Carthew bought five of the Heath lots and built Lawton Park there in 1847. The first Christ Church Deer Park was built in the Lawton gore in 1870.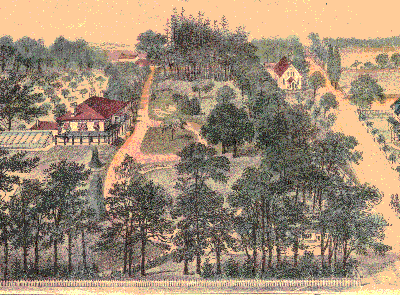 Lawton Park estate (Fisken House) and Christ Church Deer Park
There is a legend that, during an inspection of the house, Carthew's fiance was killed or seriously injured. A grief-stricken Carthew sold the unfinished house to John Fisken in 1848. When Fisken bought the property, the house featured 18 inch thick brick walls on stone foundations two and a half feet thick. Large wooden doors, two inches thick, led into the spacious rooms. Servants' quarters were above the north wing and kitchens. The property later included stables, carriage house, dove cote, roothouse, winery, and potting sheds. For many years, its beautifully landscaped grounds were used by the neighbouring Christ Church for picnics, teas. and other fund raising activities.
In 1904, the property was sold to John Palmer for $25,390. Palmer. a wealthy man, hired architect Vaux Chadwick to modernize Lawton Park. A large ballroom, 45 by 35 feet, with a deep mahogany-beamed ceiling and large mahogany-trimmed mantel, was added, along with a conservatory on the south side of the house. Palmer called his home Huntley Lodge for his father-in-law's birthplace in Scotland.
In May 1935, Lawton Park was demolished to make way for the apartment houses now standing there. (Information from an article in the MAY 1998 Village Post by Jeanne Hopkins).