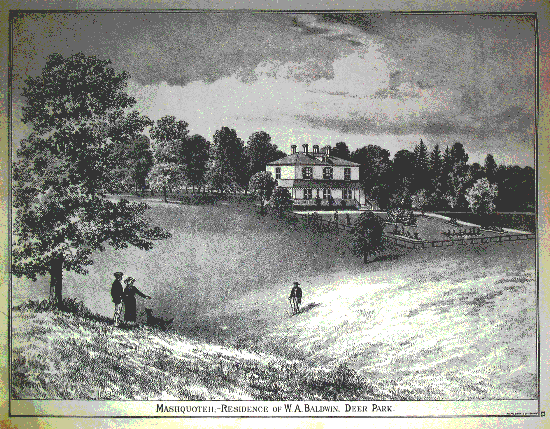 This home of William Baldwin stood just where Avenue Road and Heath Street now cross, over looking a small stream flowing through a valley still noticeable to the east along Heath St. He lived there from 1852 to 1883 with his second wife and sixteen children.
In 1834, when he married Isabella Buchanan, his first wife, his Aunt, Maria Willcocks, gave him lot 23 in the third concession, but William and Isabella continued to live at Spadina as their family grew. Later he got half of lot 22 from his mother. William worked his farm, transforming it over time from bush land into valuable real estate. In 1850, Baldwin approached John Howard to build him a large home. Isabella never saw the completed house; she died that year. William moved in with his five sons and two daughters. He named his farmhouse Mashquoteh, the native name for this lightly wooded plateau meaning "meadow where the deer come to feed." The front wall, facing west stood in the middle of today's Avenue Road, at Heath Street. The gate lodge stood at Oriole Road and St. Clair Avenue. In 1852, William married Margaret McLeod, his second wife, and had another nine children. William died at Mashquoteh in 1883, and his estate was subdivided.
The house was demolished in 1888 to make way for the extension of Avenue Road as far as Upper Canada College. Thirty acres had been sold to the college for a new campus which was opened in 1891. Heath Street was also extended westward at about this time to Forest Hill Road. Margaret built another house she also called Mashquoteh on the block bounded by Avenue Road, Heath Street, Forest Hill Road, and St. Clair Avenue where she lived with her son Lawrence and his family. After Margaret died in 1909 and the house was sold. It was demolished in 1956 to make way for apartments. (For more about Mashquoteh and its owners, see "The Estates of Old Toronto" by Liz Lundell).