3.4 km plus the tributary Metro Stream 500m
Russell Creek is probably the most lost stream around; only slight slopes are visible and the sewers were laid along the streets, crossing, rather than following, the old creek bed. The area has, however, abundant historic sites, as it was the first part of the city where working farms gave way to urban uses. This stream arose close to where Palmerston Avenue now crosses the Bloor Subway and emptied into Toronto Bay near Simcoe Street. In tracing its former course, one will visit a number of sites of interest, including Palmerston Blvd, Toronto Western Hospital, Kensington Market, Chinatown West, The Grange, the Art Gallery of Ontario, The Mervish Theatres, Metro Hall, Roy Thompson Hall, St. Andrews Church and the sites of several former houses and other buildings of historic interest. This is an area of commercial strips, old residential streets, new development and entertainment. Waves of immigrants have settled here; some to move on and be replaced by new waves. The garment district lies to the west and great hospitals and the skyscrapers of high finance to the east. To the north are the buildings of the University and of the Ontario Government; to the south the former railway lands and Toronto Bay.
Sanitary Sewage flows via the Mid-Toronto, High Level, and Low Level Interceptor Sewers to the Ashbridges Bay Sewage Treatment Plant except when CSO events occur. Storm water and over flow sanitary sewage flow to Toronto Bay via three overflow sewers. Tree cover varies from good along some residential streets such as Palmerston to absent in most commercial areas.
Click here to see sewers. Double click to remove.
Click here to see Park lots. Double click to remove.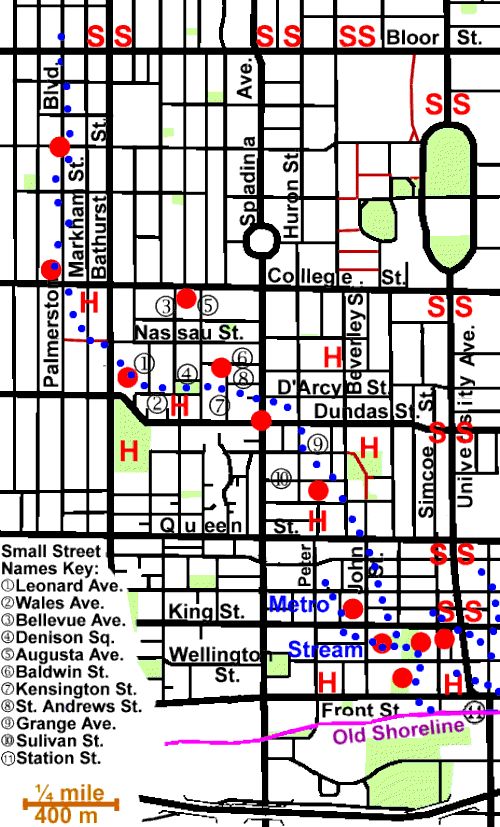 To follow the course of this former stream, one could start on Palmerston Ave. just north of Bloor Street where the Bloor Subway passes underground. There is a storm sewer catch-basin here, to which the ground from the east, north and west slopes. Cross Boor and walk down Palmerston Blvd. This is a fine old residential street shaded by old Silver Maples. While it has had its ups and downs it began as a special street for professional and upper middle-class people and still has elegance. There are gateways at both Bloor and College Streets and the streetlights are special. There are slight slopes towards Palmerston in this stretch. Palmerston is one of several streets in this part of town that were named after British Prime Ministers and men of note in the British Empire.
The Silver Maples along this street are reaching the end of their useful life; some have already been replaced with Norway Maple and Linden. Others will have to be replaced in the next decade or so.
At College, note the church on the north-west corner. It started as a Baptist Church for the largely British population of the late nineteenth century and is now the Portuguese Seventh-Day Adventist Church. Then go east to Markham Street and south to a path that leads to Bathurst at Nassau Street. The age, style and class of housing and tree cover on Markham is distinctly different from Palmerston. George Crookshank built his second or country house some where in this area. Cross Bathurst and continue east on Nassau. Go south on Leonard Ave. to Wales Ave. The old maps used show quite different paths for Russell Creek through this section (see map). To the south of Nassau and west of Leonard lies Toronto Western Hospital, an institution that "has served the health care needs of its culturally diverse local community" for over a century. The Hall, home of Sir Casimir Gzowski, lay south of Dundas along Bathurst.
Follow Wales to and through Denison Square Park. Here we reach the expanding edge of Kensington Market, which we can observe as we walk north on Augusta Ave., east on Baldwin St., south on Kensington St. and east on St. Andrews St. to Spadina Avenue. At Bellevue Ave. we would have passed close to the site of Bellevue. the home of George Taylor Denison.
Spadina Avenue is a grand street, 160 feet (nearly fifty metres) wide. It gets its name from the home that William Baldwin built in 1818 on the ridge at Davenport about two kilometres north of here. He called his property Spadina (pronounced spadeena), after the native term espadinong, meaning "hill." Here we reach the western expansion of Old China Town, often referred to as Chinatown West. Cross Spadina, go south to Dundas Street, east to Huron Street, south to Grange Avenue and east to Grange Park.
A bit to the north east at Beverley and Baldwin, one may see the house of George Brown, the founder of The Toronto Globe newspaper and a Father of Confederation. It was restorated 1988/89 by the Ontario Heritage Foundation and the Canadian Parks Service.
Historical note: An item in the "Toronto Leader" dated Feb. 29/1876 could date the burial of Russell Creek. "Covered drain to be constructed on Queen Street to replace the gully now existing between Spadina and Beverly."
In Grange Park note "The Grange" originally the home of D'Arcy Boulton and now part of the Art Gallery of Ontario. This park with the old mansion and its fine trees is a pleasant place to stop and rest, before walking down John Street. A bit west of the park on Sulivan Street is the site of the Protestant Widows and Orphans Home and further south at the head of Peter Street is the site of Petersfield, the home of Peter Russell. Peter Russell was administrator of Upper Canada after John Graves Simcoe returned to the old country. He was the person after whom Russell Creek was named.
From the Grange Park walk down John Street to Queen Street. At the north-west corner of John and King Streets is the site of York General Hospital, the first hospital in this part of the Province, built to treat civilians. It was the forerunner of Toronto General Hospital. Walk through the block now occupied by Roy Thomson Hall and Metro Hall, see page on this interesting area. Here we can see such existing buildings of note, such as: Metro Hall, Roy Thomson Hall, St Andrews Church, The Royal Alexandra Theatre and The Princess of Wales Theatre and the sites of two former buildings: Government House (Lieutenant Governor's residence) and an early location of Upper Canada College. In this park, we cross one of the City's Discover Walks "Downtown Toronto."
One old map shows a small tributary entering Russell Creek near Metro Hall. This stream, Metro Stream, started near Peter and Adelaide Streets. There is little sign now that it ever existed.
Walk south through the park to Wellington Street, south on the west side of a parking lot to Simcoe Park. This block was the site of Toronto's Third Parliament Buildings. Go east along Front Street to Simcoe Street and south to Station Street. John Strachan, first Anglican Bishop of Toronto's Palace was on Front Street just east of Simcoe. North east of Simcoe and Front Station St. marks the lake front in settlement days. The mouth of Russell Creek was a few metres west, where the convention centre is now located.