The Grange, which was built by D'Arcy Boulton Jr. in 1817, is one of the four oldest buildings now standing in Toronto, He named it for the Boulton ancestral home. He was born in England in 1785, and, trained as a lawyer; but rather than pursuing a law career, he became a successful merchant in the dry goods and grocery business. His wife, Sarah Ann Robinson, was a sister of John Beverly Robinson and another member of York's elite. The Boultons and their social circle formed the core of the Family Compact, the province's governing elite.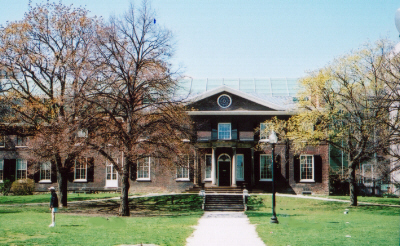 The Grange today as part of the Art Gallery of Ontario
Boulton designed the two-storey brick house himself. Like other Georgian homes of its day, the Grange was a surprisingly elegant residence, especially if one remembers that York was a backwoods outpost. The wilderness was very close. It is said that Boulton horses once drove off a bear that wandered into the pasture. The Grange has the typical balance and grace of Georgian design with a grand entry, centre hall, and fine interior panelling. Inside, a graceful free-standing stairway curved up to the second floor from the spacious entrance hall. The drawing rooms and dining area were finished in black walnut.
Around 1843, the Boultons added a grapery, a two storey west wing with a library, a Regency style orangery on the east, and a spacious second-floor music room for large social gatherings. There were lacrosse and cricket fields and a race-track on the property. They disappeared as the estate was subdivided and sold off. The northern half, fifty-one acres above College, went to King's College to make up part of the campus.
After Boulton died, his wife continued to lived on in the house. She willed it to her daughter-in-law, Harriette, who after being widowed, married Professor Goldwin Smith, an essayist, historian, and political commentator. The Smiths replaced the original wooden portico with the stone one that survives and converted the grapery into a library. Harriette left the Grange to the fledgling Art Museum of Toronto. From 1911 to 1918, the house was used for exhibitions, and then for a number of other administrative functions as the Art Gallery of Ontario grew up around it. During the early 1970s, the building was carefully restored to its original grandeur as a gentleman's house of the late 1830s.
Neighbouring streets that still bear Boulton names are Grange Road, D'Arcy St., And Henry St.
For more about The Grange and its inhabitants, see "The Estatesof Old Toronto" by Liz Lundell.