Kensington Market, now a distinctive, multicultural shopping area, west of Spadina to Augusta and north of Dundas to Nassau, started early in the twentieth century as an outdoor market by Jewish merchants moving into the area from the Ward. They were excluded from the main business community which was essentially Anglo-Saxon. At first they sold goods from handcarts pushed through the working-class streets. Then changed to stalls set up on lawns in front of their homes. This attracted other merchants, including Kosher meat processing. Successive waves of immigrants, looking for speciality goods at reasonable prices, added diversity to the market which has always been dominated by the small, independent storekeeper.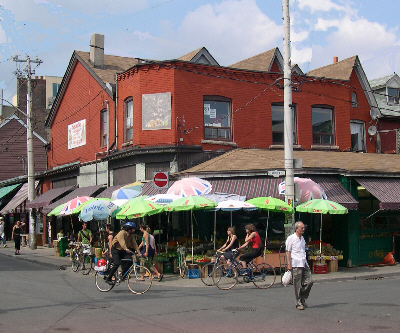 In the time between the two World Wars it was known as the Jewish market, serving both the Jewish residents of the area and the workers in the garment industry along Spadina Avenue. Many merchants converted the ground floor of their houses to stores as well as continuing to display goods on the sidewalks as is done today.
Stephen Speisman is quoted, "By the end of the First World War, an outdoor market had begun to develop on the western streets Kensington, Augusta, Baldwin, and Nassau, a shtetl atmosphere had been created." About 80 percent of the city's Jewish population of 35,000 lived in and around Kensington in the1920s, worshipping at over 30 local synagogues.
In mid century, Toronto's Jewish community began its move to more expensive neighbourhoods north and west, and the Jewish presence in the Market gradually diminished. Post-war immigration brought large numbers of Portuguese, Ukrainians, Hungarians, and Italians to the neighbourhood, adding to the market's international flavour. In the 1960s, Portuguese from the Azores became the area's dominant ethnic group. Later in the century, as Chinatown expanded westward, they were joined by ethnic Chinese and others from Asia , including: East and West Indians, Koreans, Vietnamese, and Filipinos, and also Spanish-speaking Latin Americans. Young merchants selling crafts and new wave clothing set up shop beside the food vendors.
In mid Century, all three levels of government promoted extensive "urban renewal" to control the "chaos" of Kensington Market. Fortunately, community opposition stopped this. It was cancelled in September 1969. A pedestrian mall to solve traffic problems was proposed. Two parking lots were created on Bellevue Avenue and St. Andrews Street in the 1970s to control the car- clogging. In 1976, City Council approved a Market by-law to limit expansion of the Market, and to downzone the retail density from 2 to 1 times the area of the lot. Local merchants usually have fought any attempts they perceive will change the vital character of the Market, sometimes with success (the canopies over the sidewalks stayed), and sometimes with failure (the live chickens went).
Information obtained from "Historical Walking Tour of Kensington Market & College Street " by Barbara Myrvold. Which is recommended as a source of information on the history of this area.