Palmerston Boulevard is a fine old residential street, built up at the turn of the 20th century. Most of the houses were built between 1903 and 1910. It was developed as an upper-middle-class street, mostly detached houses, that reflect the wealth and social status of the owners. Early residents included mayors, professors and doctors. George Weston, whose bread factory was close- by, had the grandest house (no. 469) a large on with a central hall plan using two lots.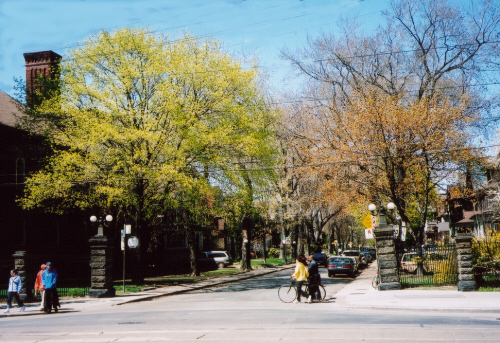 Palmerston Boulevard still has an elegance and special features distinguishing it from other local streets. There are stone gateways, topped with double- fixture globe lights, at both Bloor and College Streets. The streetlights are single pole-top lamps or light pillars of cast iron topped with smooth glass globes. It is shaded by old Silver Maples which line the boulevard and give the impression of an approach to a large estate. Palmerston Boulevard has remained faithful to its past despite conversions of many single-family residences to apartments, offices and bed and breakfasts.
Palmerston Boulevard was originally part of a subdivision called Seaton Square, laid out in 1854 but it would be many years before houses were built on it and only Palmerston Boulevard would retained the planned, wider, more expensive, lots with high quality, large houses. By 1884, the west side of Lippincott was lined with buildings crammed onto much smaller lots. The sale of lots and building on Palmerston moved steadily north, block by block. The street is 24 meters wide, substantially wider than Euclid and Markham streets, which are of 20 meters wide.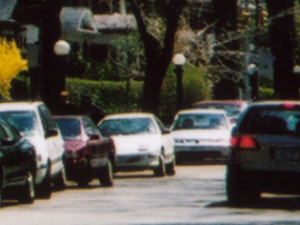 The street lights on Palmerston Boulevard, between College Street and Bloor Street, are noteworthy. Alfred Holden, an authority on historic street lighting, describes these as "an authentic street lighting installation … an electrical time capsule." They date from the time the street was being developed, (1905 to 1910). Termed single pole-top lamps or light pillars, they incorporate single upright standards of decorative cast iron, and glass globes. By 1920, these lamps were commonplace in North American cities for street and park lighting. Business districts usually were illuminated with two fixtures on an ornamental pole, while prestigious downtown streets often featured three lamps per pole. Palmerston Boulevard is one of a very few places in Toronto which still have this style of lighting. Similar lamps still exist on Chestnut Park in Rosedale and the west end of Oriole Gardens in Deer Park. Street lighting in the early twentieth century was often inspired by the City Beautiful movement where beauty and effect were the principal considerations. This style of lighting was designed to illuminate the way for pedestrians, not motorists, as automobiles were not yet come in common use. As lighting for automobile drivers became important, municipal lighting fixtures changed. Pole-top lamps became higher, and moved closer to the street. Bracket-type standards were introduced to hold the lamp over the street rather than the sidewalk. And illumination levels were increased. In many cities, soft incandescent lights were replaced with brighter but harsher sodium-vapour lamps.
As of this revision, November 30, 03, there is a disagreement between city officials and residents of Palmerston Blvd. City officials believe that they should replace the original iron pillars with somewhat higher aluminium pillars. Some of the existing cast iron pillars are rusty or falling apart and restoration of these will be costly. Residents point out; however. that over the last 95 years the existing pillars have been extremely cheap to maintain, because they're made of cast iron, a material chosen for its longevity and with regular painting should last for centuries. Also, they are not at the proper height to meet the City's illumination standards. The residents believe that, while there is a cost to maintaining the present lampposts their historic value makes this worthwhile and that the city should have special illumination standards for historic districts. "It's something very unique and something very beautiful at night when they're lit up," said one longtime resident.
The similar lamp pillars on Chestnut Park Blvd were replaced with aluminium pillars in 2002.
The fact is that some maintenance and restoration of the existing lampposts is necessary. City officials estimate that restoration would entail removal to sandblast, powder-coat and repaint at a cost of $300,00 now and $250,000 every seven to ten years. Based on the low maintenance cost over the past 95 years, the residents have reason to think that these figures are grossly inflated. New cast aluminium pillars would cost $500,000 to install, but should last 50 years,
At their meeting the other night the Palmerston Area Residents' Association moved unanimously that: "PARA recognizes the historical and aesthetic importance of the lamps on Palmerston Boulevard lights to our community and to Toronto's heritage, we oppose their destruction or replacement, and we request our Councillor to defend our lights at the City Council in whatever way he can including asking council to renew its 1973 instructions to all city Commissioners to take whatever actions are necessary to preserve listed items, including our lights. We request our Councillor to investigate the possibility of increasing, rather than diminishing, the degree and extent of historical preservation in our neighbourhood. We further request our Councillor to report to PARA at least monthly on the progress of his efforts on this behalf, and we pledge to support him in this matter to the best of our abilities." Their Councillor was impressed with the discussion and with the unanimous vote in favour of keeping the lights. He said that the demise of the lights is now on hold.
Information obtained from a number of sources including "Historical Walking Tour of Kensington Market & College Street " by Barbara Myrvold, which is recommended as a source of information on the history of this area.