There were two locations for this residential care institution. The first site was on Sullivan Street east of Spadina Avenue. This was a large house, built on an acre of land near Russell Creek. The second location was on the west side of Dovercourt Road at St. Anne's Road. This home was the first formally organized facility, to undertake the care of orphaned children. While it received public support, it was a church-inspired and operated facility, as were most such charitable institutions in the 19th century.
"Toronto Old and New" states "The charity was founded so far back as 1849, and long had its home on Sullivan Street." An asylum had been set up in 1847, but was clearly unable to accommodate the flood of immigrants that came in the following years. When so many people were carried off by cholera. women and children were left destitute. The solution was to build this early home, completed in 1854. The rector of the Church of St. George the Martyr campaigned for funding the construction and the Honourable Robert Baldwin donated land. A temporary home on Bay Street was used in 1852. Patron of the home was Mayor J.G. Bowles, who helped to arrange a concert by the great Jenny Lind, the proceeds from which were donated to the home. St. George's Church administered the home. It was designed to hold 30 children. but was enlarged twice to hold 70. An infirmary was added in 1864.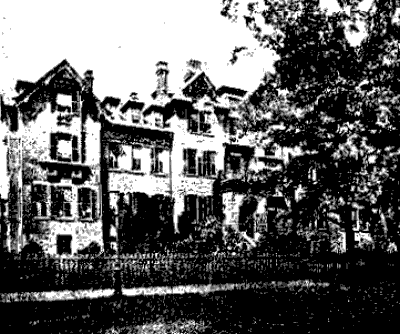 Overcrowding forced a move in 1883 to a new building (seen above) on the west side of Dovercourt Road at St. Anne's Road. This institution is described in "Toronto Old and New" as "surrounded by ample play-grounds —– and by its comfort and cheerfulness tending to soften the asperities and brighten the outlook of its orphaned inmates. Few of Toronto's charitable institutions appeal more urgently than does the Orphans' Home to the sympathy and support of the public. — Since the founding of the Home, fully 1,600 children have been cared for under its sheltering roof, and the number of its present inmates varies from 150 to 200."
In the 1920s, the orphans home function was taken over by the Orange Order, which opened a large facility on Yonge Street north of the city. The Dovercourt building became a vocational school for girls, and later Heydon Park Secondary School.
Information from "Toronto Old and New" and "A Glimpse of Toronto's History" (MPLS # 139).