The 19th century mansion at the north-west corner of Beverley and Baldwin Streets was the home of George Brown, the founder of the Toronto Globe newspaper and one of the Fathers of Confederation. a leader of the Reform Party, the forerunner of the Liberal Party. He was also a devoted family man.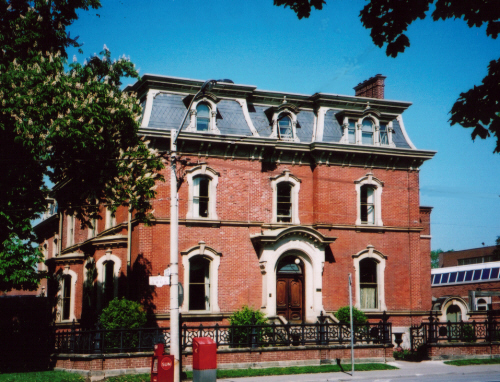 George Brown was born in Scotland in 1818 and emigrated to New York with his father in 1837. In 1843, they moved to Toronto and started Banner, a newspaper for Upper Canadian Presbyterians. One year later, Brown launched the Toronto Globe in which he strongly supported the reform movement and responsible government. With his help the Reform Party came to power in Upper Canada in 1848.
In 1851 he was elected to the Legislative Assembly and in 1857, he reorganized the Clear Grit Party, He believed that the British colonies in North Amaerica should be united and as political instability grew in Canada, he proposed the Great Coalition to John A. Macdonald. and George Etienne Cartier. He played a major role at the Charlottetown and Quebec Conferences as a supporter of Confederation.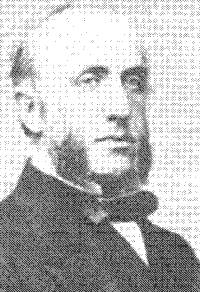 The massive Second Empire style brick home, which is more than 1,207 square metres, was constructed in 1874-1976. George and Anne Brown took an active role in the home's design, overseeing everything from the paint colors, drapery styles, upholstery fabrics and plaster mouldings to the heating and plumbing systems.
In 1880, George Brown was shot by a former employee of the Globe and, while the injury to his leg appeared minor at first, an infection set in which took his life.
Duncan Coulson purchased the home in 1889 and made some improvements including the front hall fireplace, radiators and mahogany paneling and french doors in the dining room. The Canadian National Institute for the Blind (CNIB) used the home as a rehabilitation centre for warblinded soldiers after the Great War.
In 1988 and 89 the George Brown House was restorated through a joint venture of the Ontario Heritage Foundation and the Canadian Parks Service at a cost of $2.45 million. While the plan was to have this building open to the public with conducted tours, budget constrants precluded this. The foundation does rent the downstairs rooms for conferences, receptions and dinners. A fully equipped catering kitchen in the basement can handle banquets for as many as 112 people.
An exhibit room in the basement holds artifacts found during the restoration and a video tells the story of how the home was brought back to life. Display panels have been mounted throughout the home with specific information about individual rooms. The library on the main floor has been furnished with period furniture by the Canadian Parks Service. Almost 2,000 of George Brown's books, some containing scribbled notes in the columns, have been conserved and returned to this room.
Some of this information was obtained from "Design 'detectives' help restore George Brown house" Laura Morrison - Real Estate News, April 1990.