Spadina Avenue is a grand street, 160 feet wide (nearly fifty metres). William Baldwin named it after his estate and house on the ridge at Davenport, about two kilometres north of here. He called his property Spadina, after the native term "espadinong," meaning "hill."
This page has four sections: Nineteenth Century Spadina Avenue, Jewish Spadina, Chinatown West and Notes on three historic Spadina buildings:
Nineteenth Century Spadina Avenue
Dr. Baldwin began subdividing his property between Queen and Bloor in the 1820s, laying out Spadina Avenue as the central thoroughfare with a double width of 132 ft. (later extended to 160 ft.) and an ornamental garden crescent above College Street (where Old Knox College now stands). This tree lined avenue would give a pleasant view from his estate on the bluff. This together with the blocks of unequal size, was innovative planning for those days and differed from the uniform grid of most of the city. Baldwin named streets for family members: Robert, Phoebe, Sullivan, and Willcocks.
While Tremain's map of 1860 shows this area as completely subdivided, Spadina Avenue was still sparsely settled north of Queen street in the early 1870s. Robert Denison had so little demand for his $350 estate lots, that he split them into three, so starting high density development in this part of the city. During the 1870s, working class British immigrants began to move into the area. The area, like most of Toronto, was solidly British in character. Local transportation also grew during the 1880s. The Toronto Street Railway started horse-drawn streetcars on Spadina Avenue in 1880.
Jewish Spadina
In 1901 ninety per cent of Toronto's citizens had their roots in Britain. The largest ethnic group were Germans (three per cent); the next largest were Jews at 1.9 per cent. In the early 1900s, Toronto's Eastern European Jewish community began moving into this part of the City. While the more affluent settled east of Spadina, the poorer ones chose the streets to the west. About 80 percent of the city's Jewish population of 35,000 lived in this area by the 1920s, worshipping at over 30 local synagogues. By 1931 Jews had become by far the largest non-British group at 7.2 per cent (Italians were second at 2.1 per cent); the city at large had dropped to eighty per cent British.
Rick Salutin, in his introduction to R. Donegan's "Spadina Avenue," tells us that: "The age of industrial Spadina was the era of Jewish Spadina. Between 1901 and 1931 the population of Toronto grew by four times, from 156,000 to 631,000. The Jewish population grew fifteen times in the same years, from 3,000 to 45,000, as the Jewish masses of Eastern Europe crossed the Atlantic. —– As late as the 1951 census, Jews still comprised the largest ethnic component of Toronto at six per cent, with Ukrainians second at 3.5 per cent. By this time the British were down to seventy per cent. —-(but) the Jewish era on Spadina was coming to an end. Jews moved north as other immigrants established themselves on the Avenue. —— Spadina has become about as Chinese as it once was Jewish. —- It differs from Jewish Spadina. The Chinese who came in the recent wave from Hong Kong brought a great deal of capital with them. They're the richest immigrants ever to enter Canada."
Chinatown West
The information in the following section has been extracted from "Toronto's Chinatown" by Richard H. Tompson.
"Due to downtown redevelopment and the recent influx of thousands of recent Chinese immigrants, the area known as Chinatown West has assumed increasing importance as the center of the Chinese ethnic community." It covers about two square miles between Spadina Avenue and McCaul Street and between College Street and Queen Street and is "an ideal location for Chinese residents who are within walking distance of their jobs in the Chinese businesses and nearby non-Chinese industries which employ Chinese labor." "Chinatown West is as near a complete community as one could expect to find in an urban context. In addition to being a residential community in which an estimated 10,000 Chinese now live, it has within its boundaries two primary schools, several social agencies geared to immigrant needs, busy commercial streets on which are a score of different kinds of services, and light industrial factories which employ Chinese."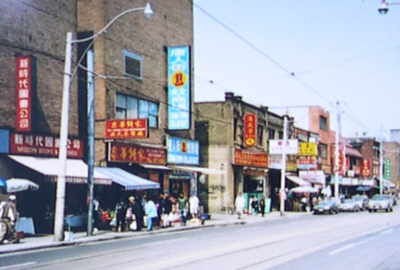 Businesses on Dundas Street and Spadina Avenue here are almost exclusively Chinese. In addition to scores of restaurants, groceries, and gift shops, other Chinese businesses such as real estate and insurance brokers, travel bureaus, bakeries, banks, pharmacies, physicians, lawyers, architects, book shops, and so on are concentrated here. "Practically every conceivable service necessary to a Chinese-speaking immigrant can be found on this strip of Dundas. Spadina Avenue between College and Queen Streets." Non-Chinese businesses such as delicatessens, hardware stores, and clothing stores, are scattered along Spadina. College and Queen Streets are also heavily commercial, but have only a handful of Chinese businesses. Kensington Market, Toronto's famous year-round outdoor market also has several Chinese businesses, but most either Portuguese or Jewish. Exempt for some large restaurants geared to the tourist industry, Chinese businesses in Chinatown West serve Chinese residents.
In the southwest corner of Chinatown West, on Spadina near Queen and south to King Street, we find the "Garment District." A clustering of garment factories which originally were run by and employed Jewish labour, and now employ thousands of Chinese. Employment like this is one reason why Chinese immigrants prefer to live in this neighbourhood.
Notes on three historic Spadina buildings (near Russell Creek crossing)
The building on the north corner of St. Andrew and Spadina, 350 - 358 Spadina Avenue, was designed for W.E. Dunn in 1890 by William G. Storm, who was also the architect of University College and St. Andrew's Church. This building has held a number of businesses. One Stitsky's Imports was here for over thirty years. Rotman's Men's Shops was at 350 for more than fifty years. The name Rotman's is still obvious in the tiles above the door at the south end of the building. The top of the north wall of 358 shows a painted advertisement for Stitsky's.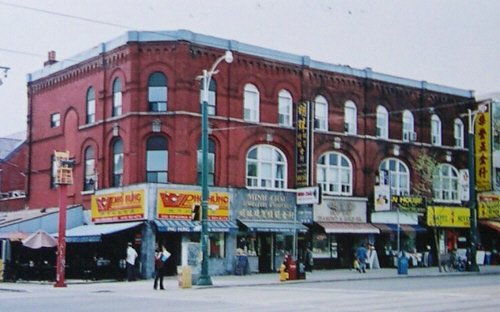 The Labour Lyceum, 346 Spadina Avenue, was the centre of Toronto labour activity from 1928 to 1968. "The Toronto Labour Lyceum Association, Limited", was incorporated in 1913 to serve trade unions that were not affiliated with the Communist Party. When the American feminist and anarchist Emma Goldman died in Toronto in 1940 her body lay in state here before being shipped to Chicago for burial.
The building at the north-east corner of Spadina and Dundas was once an important Yiddish theatre, The Standard. Today it houses a branch of the Royal Bank and sundry small businesses. The Standard Theatre was designed by architect Benjamin Brown and opened on August 18, 1921. In the 1920's it was the centre of Yiddish theatre in Toronto. From 1921 to 1935 people came to the Standard for fine Yiddish theatre, lectures, meetings, and boxing matches. In 1929 a meeting at the Standard to commemorate the death of Lenin ended in a police raid. Toronto police kept a close watch on Communist activity in the neighbourhood and speakers at this meeting had broken the law using a language other than English.
This theatre knew many incarnations. By 1935 demand for live Yiddish theatre had fallen off so the Standard became a movie theatre, the Strand. At the end of World War II it became burlesque house, the Victory, until 1975. It was a popular, and notorious hang-out for students and artists. Rick Salutin tells us "It used to be the Standard, a Yiddish theatre, and political-cultural projects like "Eight Men Speak" went on its stage. In the mid 1930's. it became the Strand, a movie house. After the Second World War it was renamed, naturally, the Victory and became a burlesque house. When I was growing up it was a centrepiece of adolescence. Since we lacked any comparison, the strip shows seemed like the real thing. We didn't know how prissy they were in the Toronto way. G-strings and pasties were obligatory; numerous rules restrained the performances." After renovations, the Golden Harvest Theatre opened as a Chinese language theatre. It then became the Mandarin Theatre and finally in a way, a mall.
Information from "Spadina Avenue," "Toronto's Chinatown," "A Historical Walking Tour of Kensington Market & College Street," and others.