Toronto (then York)'s first hospital was a small shed that was used as a military hospital during the war of 1812. The first hospital built to treat civilians, York General Hospital, was opened at Simcoe and King streets in 1829. When York became Toronto this became known as Toronto General Hospital. Over the years this institution moved to and expanded into larger quarters several times.
A Hospital Trust was incorporated 1847 to manage the hospital's. The medical practitioners, who formed the consulting, acting, and Executive staff, assisted in this management. There were five men on the Board of Trustees, one of whom was the Mayor, three members were appointed by the Ontario Government, and a fifth member was appointed by the subscribers to the Hospital fund.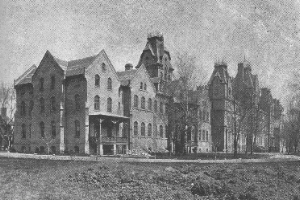 Toronto General Hospital on Gerrard Street
In 1856, the Hospital was moved to a four acre site, on Gerrard Street East between Sackville and Sumach Streets and north to Spruce Street. There were eighteen wards, with 400 beds, an operating theatre, an eye and ear infirmary and space for maternity cases. It was used for teaching medical students from three universities. Its school of Nursing was opened in 1861, the second such school in Canada. While this location served Toronto for nearly 60 years, there is little to see of it nowadays except for a Toronto Historical Board plaque on Spruce Street at Gifford Street, and some stones in neighbouring gardens.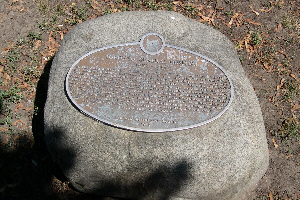 Plaque marking site of TGH on Gerrard Street
For more more about the Gerrard Street site see "A Glimpse of Toronto's History" MPLS 142.
In 1913, TGH moved to more spacious quarters on College Street, east of University Avenue. Over the years it has expanded south of this structure in other buildings along University Avenue to eventually fill the block bounded by College St., Gerrard St., University Avenue and Elizabeth Street. The historic plaque on College Street reads: "This institution, the first general infirmary in Upper Canada, began operation in 1829. It was periodically hampered by administrative and financial difficulties but through the initiative of the influential businessman, Sir Joseph Flavelle, Chairman of its Board of Trustees (1904-21), services were reorganized and steps taken for the construction here of a new hospital. Designed by the firm of Darling & Pearson, it was begun in 1911 and officially opened two years later."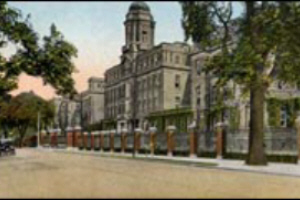 Toronto General Hospital on College St. early twentieth century
"Toronto General Hospital quickly moved to the forefront of Canadian medicine as an outstanding teaching and research centre. In association with the University of Toronto, Connaught Laboratories and other institutions, it achieved international recognition in the fields of radiology, heart surgery, and the treatment of diabetes, arthritis, and kidney and vascular disease."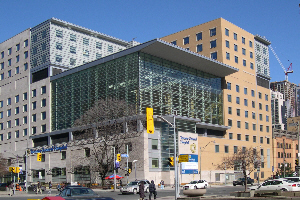 Clinical Services Building, 2006/02/24
TGH is now in the midst of considerable rebuilding. The recently completed 12-story, Clinical Services Building (seen here), "is entirely devoted to patient care, with such features as centralized registration areas, optimum use of space, and soothing colours and natural light. The building houses diagnostic imaging, a comprehensive transplant centre, a four-storey patient court, and the welcoming Robert R. McEwen Centre Atrium. It is also home to the most sophisticated surgical suites in North America."
Information from "Toronto Old and New," the "University Health Network" website, and other Histrorical Board plaques. For more about Toronto General Hospital, now part of the "University Health Network" go to http://www.uhn.ca/tgh/glance/?nav=2;2