This building, originally built in 1897, as Holy Blossom Synagogue, was the third site and second building for that congregation. For twenty years, they had used a rented room at Yonge and Richmond streets. In 1876, the congregation built its first synagogue, a block east of Yonge on Richmond Street. As the congregation grew and more space was required, they built this building. The congregation continued to grow and spread north through the city, so money was raised to purchase land on Bathurst Street north of Eglinton and the present Holy Blossom Temple was built and dedicated on May 20, 1938. In order to raise a portion of the required funds, the Bond Street building was sold to the Greek Orthodox Church. The Hellenic Orthodox Church of St. George had its Grand Opening. November 28 1937.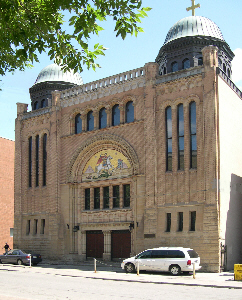 The one feature that attracted the Greek Orthodox Church was the dome over the main space that had been included when the synagogue was built. Of all the architectural features in the building, this is what suited them best. The interiors of many traditional Greek Orthodox churches are elaborately painted with many religious images that rise up and culminate in a richly painted dome of heaven with the traditional image of Christ as judge looking down at the worshipers gathered in the church below.
When, after fifty years, the parish decided to renovate this building, they wanted to reconfigure the interior into a more traditional Greek Orthodox church and have the main space painted as traditional Greek churches would be. They were able to get the services of two monks from the monastery on Mount Athos in northern Greece, that has been a centre of Orthodox Christianity for over a thousand years to adorn their church. Its interior is now a vision of colour and imagery.