Sherborne Villa was one of the grand houses of Victorian Toronto. It was one of many such mansions on Sherborne and Jarvis Streets, then the very best addresses in the city. In 1857, Thomas Ridout, an official of the Bank of Upper Canada, started building this enormous white-brick house, calling it Sherborne Villa, after his father's birthplace in Dorset. The architect of his Italianate villa was Frederick Cumberland. Unfortunately the bank had a financial crisis and Ridout was forced to sell before his house was completed. He died in 1861. The obituary in the Toronto Leader staited, "Of unbending integrity and sterling honesty, Mr. Ridout was respected by all, being possessed of an amiable and generous disposition, he had many warm and attached friends." He left behind a widow and twelve children. In 1867, Henry S. Howland, an industrialist, bought Sherborne Villa and lived there for twenty years. During this period, development slowly spread out into this district.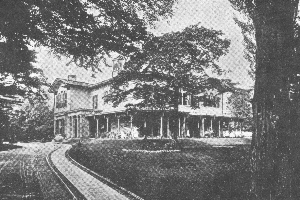 Sherbourne Villa
In 1888, Senator George Cox, a wealthy financier and philanthropist, purchased the house and lived there until he died in 1914. During the Cox era, the house was used frequently for lavish receptions and dinners. Guests were received in the drawing room or music room, both of which had fifteen foot ceilings and walls papered in green, watered silk. The dining room had rich, oak wainscoting and wine-hued, tooled Italian leather above. A stained-glass skylight illuminated the impressive staircase.
In 1916, the house was purchased by Harris Henry Fudger, president of the Robert Simpson Company, to be used as a residence for out-of-town female employees.
When its residence days were over, the house was purchased by the city. It was demolished in 1964.
Information from "A Glimpse of Toronto's History," MPLS 246 and other sources.