Also Bishop Strachan School, Eaton's College Street Store, College Park and Carlu
James Buchanan Macaulay, the second son of James Macaulay, received a large parcel at the north edge of his father's estate, where he built Wykeham Lodge.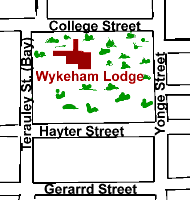 Wykeham Lodge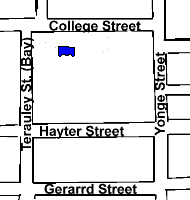 Bishop Strachan School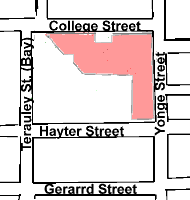 College Park
In 1869, Wykeham Lodge was purchased by Bishop Strachan School, which had been founded in 1867 and had, for its first two years occupied smaller quarters, first near the Art Gallery, and then in Captain Strachan's cottage, part of the Bishop's residence on Front Street. This school occupied the College Street site for 45 years. Eventually the growing School, facing financial strains, and changes due to urban growth, put this property up for sale and moved to its present "College Heights" location at 298 Lonsdale Road.
My grandmother told me that the Eatons, wishing to have a full block for what was planned to be their flagship store, worked through a third party to assemble this land. They did not wish to be held up by a stubborn individual as had happened at Queen Street. Eventually they were able to purchase all parcels that this property had been divided into and planned a 36-storey office tower and retail complex, that has sometimes been referred to as "the Empire State Building Toronto never had." The great depression stopped many endeavours and this was one. The skyscraper was never built.
Construction began on the store in 1928 with completion to seven floors in 1930. While it fell well short of its intended grandeur, it was and is a splendid example of Art Deco styling that has captivated many admirers. The architects were Ross & Macdonald, one of the largest architectural firms in Canada at that time, which was also responsible for the Montreal Eaton's department store (1925-27, 1930-31), and, the Royal York Hotel (1928-31). Eaton called the new structure Eaton's College Park, which in spite of its reduced proportions prospered. This was due in no small way to the Eaton Auditorium and the Round Room (restaurant) on the seventh floor, designed by famed French architect Jacque Carlu, and considered one of the finest examples of the Art Moderne Period.
Closed in the late 1970s, the Auditorium and the Round Room were saved from destruction by citizen action and a Provincial court order. Lengthy discussions took place between the City and the developers about how the redevelopment should proceed. While some parts of the old building were to be demolished, the central block was to be restored substantially and the seventh floor was to be preserved. The Round Room features an original Lalique fountain designed by Carlu and a mural was painted by his wife Natacha, a famous Parisian artist of that era. This entertainment complex, which has now been restored to its historic condition was named The Carlu, after its famed architect, by Jeff Roick and Mark Robert, the entrepreneurs, who carried out this ambitious and historically significant project. Many honours have been bestowed on The Carlu including the Ontario Architecture Association's 2004 Award for Architectural Excellence.