The North Toronto Station, which opened as the main passenger station for the CPR in 1916, has been beautifully restored as the focal point of significant redevelopment in Rosedale. It has been completely restored, both inside and out. We can now see the the 40 foot ceilings in the principal hall, where the original brass ticket wickets are again in use. The square in front of the Station has been landscaped with fountains, water tables and pools and seats and benches. It is now Canada's largest liquor store, operated by the Liquor Control Board of Ontario. It is well worth a visit. There are also some interesting historic photos on display inside.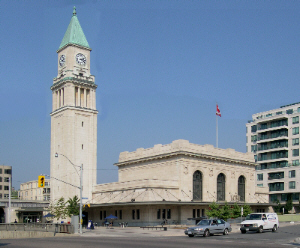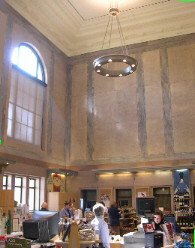 Canadian Pacific opened its new North Toronto Station on June 14, 1916. It was located in midtown Toronto, where its main rail line crosses Yonge Street and was its main Toronto passenger station until the present Union Station was opened in 1927. There had been two older stations on this site. Three years after the new Union Station opened the North Toronto Station was closed for passenger service, except that it did open its doors for the train carrying the King George VI and Queen Elizabeth in 1939. CP Rail stopped using this station altogether in the 1980s.
For a while GO Transit was considering using this station to relieve to load on Union Station with a new Midtown commuter service that would run east from Kipling station, along the CP tracks into Agincourt, with stops at Spadina Avenue, Leaside, and here. Possibly this service might operate as far west as Erindale. The improvements to Union Station, and the 1990s recession curtailed GO's enthusiasm, but this plan might still be resurrected.