A 2.5 km tributary of Garrison Creek which had its own tributaries: Brock Stream (200 m), Havelock Stream (300 m) and Moutray Stream (1 km).
This stream gets its name from the Denisons, one of early Toronto's leading military families, who farmed and built grand houses along this stream. It arose around Bloor Street and Lansdowne Avenue and flowed east and a bit south to join Garrison Creek near Ossington and Harrison Avenues. Its route passes through residential areas with commercial strips along arterial streets. One park Dufferin Grove Park lies along its course. Storm water from much of the area flows to a outfall just west of Exhibition Park where it is held temorarily in the Western Beaches Storm Water Storage Tunnel. Sanitary sewage flows to the Ashbridges Bay plant via the Mid Toronto Interceptor Sewer along Dundas Street.
Click here to see sewers. Double click to remove.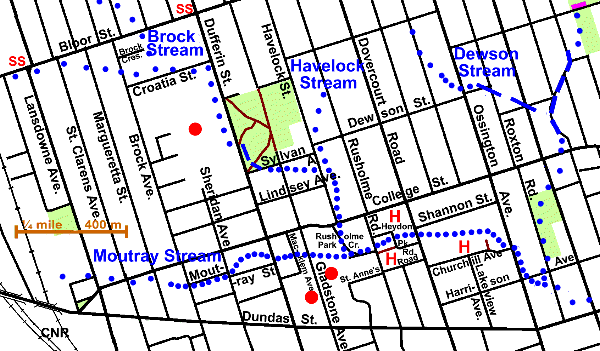 To walk the route of Denison Creek, start at the Lansdowne Subway Station and walk east on Bloor St. to Brock Ave., noting the slight dips on the streets south of Bloor. Walk south to Croatia St. noting the low spot at the end of Brock Cres. This is the most noticeable evidence of the lost tributary, Brock Stream, which started north of Bloor St. between Brock Ave, and Margueretta St. and flowed south to join Denison Creek north of Croatia St. It might have been little more than a drainage ditch dug by settlers to dry up their fields. (See "Tops of Streams and Other Indistinct Stretches".)
Follow Croatia St. to Dufferin St. and south to Sylvan Ave Crossing into Dufferin Grove Park at Dufferin Park Ave. This park has a valley on its west side that is a remnant of the Denison Creek Ravine which lay mostly west of Dufferin St., but which has been obliterated by Dufferin Mall. The latter is the site of the former Dufferin Racetrack. Dufferin Grove Park has many large old Silver Maple, some old Linden and some younger Sugar & Norway Maples, Ash, Red Elm, Catalpa, Colorado Spruce, Honey Locust and Crab Apples. There is a small valley on the west side and a gully up which a path runs. There is a small naturalized area along this path.
Follow Sylvan Ave. to Havelock St. and south to College. Here Denison Creek's route is marked by a distinct valley south of Sylvan and east of Havelock. Another small tributary met it in this stretch. Havelock Stream started along Rusholme Rd. about half way between Hepbourne and Dewson Streets. As was said about Brock Stream, it might have been little more than a drainage ditch dug by settlers to dry up their fields for most of its mapped length. (See "Tops of Streams and Other Indistinct Stretches".)
South of College St., Rusholme Park Cres. follows the route of the former stream, which was met by its largest tributary, Moutray Stream in the grounds of the Cadbury Factory.
Moutray Stream started where West Toronto Collegiate Institute's playing fields are now and flowed east to meet Denison Creek along Rusholme Cres. Its path along College as far as Brock Ave. is obscure being marked only by slight dips. Go south on Brock to Moutray St. along which there is a definite valley, which can be followed past Dufferin to Gladstone Ave. and through the Cadbury Factory grounds to Rusholme Park Cres. A landmark of interest south along Gladstone is St. Anne's Anglican Church, noted for its murals painted by members of the Group of Seven.
To continue along the course of Denison Creek, keep on along Rusholme Cres. and cross Rusholme Rd. to take a path east to Heydon Park Rd. and on to Dovercourt Rd. Overlooking the stream here were two of the fine houses of the Denison family. To the south was Rusholme home of George Taylor Denison II and to the north was Heydon Villa, home of his son George Taylor Denison III. Go south on Dovercourt to Churchill Ave. and east to Ossington Ave. Dover Court, the home of Richard Denison, was located on the north side of Churchill across from Lakeview Ave. which was the lane from this house to Dundas Street. At the bend in Churchill there is a short lane from the end of which one gets a good view north over the Creek's valley. The Creek followed Ossington south to Harrison Ave. and then turned east to meet Garrison Creek along Roxton Rd. One can see that Harrison has been greatly built up by the fact that an older apartment building on the south side of this street, which was built in the valley, now has its second floor at about street level.
Continue along the Trinity Reach of Garrison Creek.