George Taylor Denison III built Heydon Villa in 1864 as home for himself and his bride Caroline Macklem. The house was situated north-east of his father's home, on a hill west of today's Dovercourt Road, just south of College. This was the largest and grandest of the Denison homes. The name came from his great-grandfather's birthplace, Headon, Yorkshire. The red-brick mansion had a distinctly southern style, with a wide veranda supported by Doric columns, a Grecian pedimented entry, shuttered windows, and eighteen-foot ceilings. The drawing room featured ornate plaster mouldings, imported marble fireplaces, and giltframed mirrors. At this fine home, Colonel Denison also compiled an impressive two thousand volume library and collected weapons from around the world.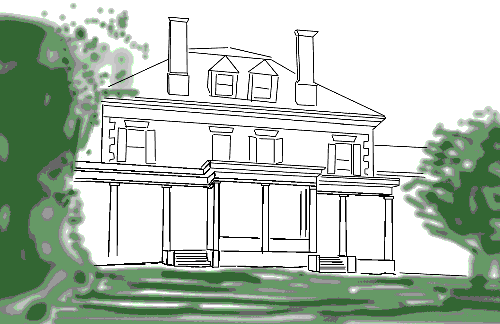 The gardens south of the house included both a formal rose garden and a sylvan retreat with rustic bridges, wild strawberries, and trilliums. Heydon Villa was the site of many fine dinners and gatherings; notable guests included Rudyard Kipling and British politician Joseph Chamberlain. While essentially in the country, the city was close by, so Colonel Denison was able to walk to city hall each day. During the fire of 1904, the whole family congregated on the widow's walk and watched with concern as the downtown burned.
Denison was a lawyer and, like others in his family, he was active in the militia. In 1866, he commanded the troop as Lieutenant Colonel at Niagara during the Fenian Raids. He also saw action in the Northwest Rebellion of 1885. Like his father and his uncle, Colonel George Dewson of the Confederate Army, he sympathized with the South during the War Between The States. His home became a gathering place for Confederate sympathizers and agents. He wrote a "History of Cavalry" and submitted in a Russian competition. He won a prize of five thousand rubles from the Tzar and quite a bit of attention at home.
In 1877 he became Police Magistrate for Toronto. In this post, Colonel Denison tried most crimes except those requiring a jury. Up until 1917, he heard ninety percent of the indictable offences in Toronto. He wrote, "I doubt if there is any judge or magistrate, either in Canada or in England, who has tried as many indictable offences as I have in the last forty years." George Taylor Denison III died in 1925. He had been President of the Royal Society and the Canadian Military Institute, and an ever active member of the British Empire League. His death marked the end of an era. The large Denison properties had been subdivided, most of the homes demolished.
The house was vacant until it was demolished four years later. Heydon Park Road was cut through the property and apartments were erected nearby on Dovercourt Road. In 1965, the armoury built on Dufferin was named Denison Armoury in honour of George Denison III.
For notes about other Denison and their houses on this site see Brookfield, Bellevue, Rusholme and Dover Court.
(For more about Heydon Villa and the Denisons, see "The Estates of Old Toronto" by Liz Lundell).