Richard Denison built his first home north-west of present day Dundas and Ossington. He was a farmer and businessman, and, like other Denisons, was active in the militia. He named the property, Dover Court for the hometown of his grandmother's family in Essex. This house was surrounded by lawn and orchards, with a kitchen garden in front. Farm fields ran from behind the house to Bloor Street.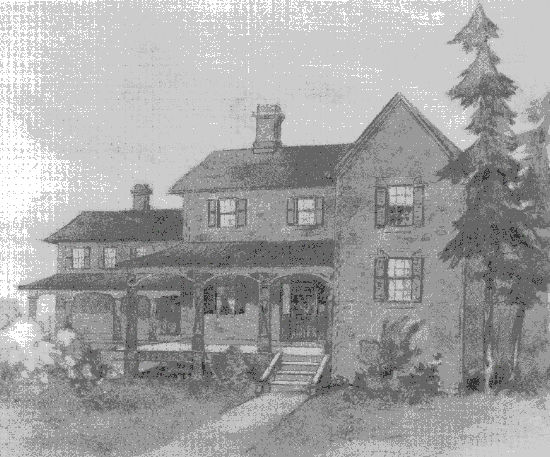 In 1853, the Denisons built a much larger and more elegant home on a slight rise in the centre of the property at the head of a lane (now Lakeview Avenue) leading to Dundas St. This second home was red brick, with a high gable capping the second storey. Wide verandas graced the front and west face of the house. Colonel Denison died in 1878, survived by his wife, eight sons, one daughter, and a stepdaughter. He reserved Dover Court and a surrounding lot for his wife's use during her lifetime, with a stipulation that the name be retained. Dover Court was altered and sold in 1894. It was eventually demolished for two new homes. Lakeview Avenue and Dovercourt Road remind one of it.
For notes about other Denison and their houses on this site see Brookfield, Bellevue, Rusholme and Heydon Villa
For more about Dover Court and Richard Denison, see "The Estates of Old Toronto" by Liz Lundell.