January to December 2006
Other years
Sunday, December 31, 2006, 1:00 p.m.The Lagoons of Toronto Island. Meet at ferry docks (near Queen's Quay and Bay Street). Easy. Leader Ian Wheal. Attendance 14; mild & fair, 9C, light wind.
Saturday, December 23, 2006, 1:30 p.m. Hastings Creek. Meet at entrance to Donlands Subway Station and go south to Ashbridges' Bay. Ravine and springs on estate of Thomas Hastings d.1833. Moderate. Leader Ian Wheal. Attendance 15; mild, 7C, dry, very light wind.
Sunday, December 17, 2006, 2 p.m. Walk along the Taddle. A joint with U of T Senior Alumni. It will start in front of Hart House. Leaders Peter Hare and Ilmar Talvila. See The Taddle, Historic U of T buildings and points of interest. Attendance 28; unusually warm light wind.
Saturday, November 25, 2006, 2 p.m. "Lost Mountain of Gold". Start NE corner Scarlet Road and Eglinton Ave. End St. Phillips Road, Weston. The focus will be on history and landscape along the Humber. Moderate difficulty. Leaders Ed Freeman and Ian Wheal.
Nov. 25, 2006 Started at 2 pm with 32 persons completed walk at about 4:30 pm. Walked from Scarlett Rd and Eglinton along the Humber to St. Phillip's Rd then proceeded further along the river until rock cliff and the river meet. The small shelf at the waters edge allowed viewing of the rocks of the Georgian Bay Formation and the many fossils within. Saw clams and worms and a fragment of a cephlapod. Returned to St. Phillip's Rd and up stairs to Weston Road and northward past small park with millstone monument and plaque re past settlement and mills established nearby. Coffee at the new Loblaws Superstore. Return by Royal York bus ‒ a quicker return than if used the Weston Road bus. Weather was hazy clear with temperature of 9 or 10 Celsius. The tributary creek north of Eglinton is presumably Chapman Creek, but mention has been made of Chaffey's Creek. What is correct name???
Saturday, November 11, 2006, 2 p.m. Garrison Creek: Toronto's military creek explored. Meet at entrance to Christie Subway Station. Moderate difficulty. Leader Ian Wheal. Attendance 14; mild.
Sunday, November 5, 2006, 2-4p.m. Burke Brook Walk. Join Task Force to Bring Back the Don member, Janice Palmer, to see what volunteers have done to improve the quality of the natural environment in this small part of the Burke Brook subwatershed of the Don. This walk will start and end at the main entrance to Sherwood Park at the east end of Sherwood Ave. 200 metres east of Mount Pleasant Rd. Limited parking is available.
Saturday, October 28, 2006, 2 p.m. Aylum Creek, from Swamp to Public Space. Start SW corner Dundas and Dufferin Streets. Explore this historically significant Garrison Watershed stream with Ian Wheal and Ed Freeman. Moderate difficulty. Attendance 9; cool, overcast & damp (rain in morning before walk started).
Sunday, October 15, 2006, 2:00, p.m. Castle Frank Brook. Meet in front of Eglinton West Subway Station. To explore this lost stream and observe how development has changed it. Moderate difficulty. Leader Richard Anderson. Around 19 people, all told. Weather was bright, dry, slight overcast. Saw a red-tailed hawk over the western portion of the Cedarvale ravine.
Sunday, October 15, 2006, noon, Human River. Come and join the Toronto Public Public Space Committe wearing your best blue on October 15, for the second annual Human River. The event starts at 12 noon in the Christie Pits Gazebo with music and craft making. The walk starts 1 p.m.and finishes 4 p.m. at Fort York. Easy walking. A fun filled afternoon of music making, performance and parade that follows the path of the buried Garrison Creek. With everyone wearing blue, we became a human river bringing the Garrison Creek back to life! The parade will begin around 1 p.m. winding through the city to end at Fort York around 4 p.m.
Digging sewer along Garrison Creek in 1890s
Sporting myriad shades of blue, a 100-strong brigade of paint-can drummers, kazoo players and pirates headed south from Christie Pits to Fort York on Sunday, October 15. Garrison Creek may have been buried decades ago, but once a year it resurfaces as a flowing river with legs; this is part of the Toronto Public Space Committee's (TPSC) Human River Walk.
Saturday, September 30, 2006, 2 p.m. Henry Scadding's Don Mountain, Caves & Lairs. This is a chance to walk in the footsteps of Henry Scadding along ancient pathways and trails including foregotten aboriginal paths. Meet at entrance to Riverdale Library, Broadview and Gerrard. Moderately difficult. Leader Ian Wheal. Attendance 14; 20 C cloudy light wind.
Sunday, September 17, 2006, 2:00, Small's Pond. Start at Woodbine Ave. and Eastwood Rd., SW corner. To explore an area of lost ponds and streams and see how human activity has affected it. Moderate difficulty. Leader Ian Wheal assisted by Richard Anderson. Attendance 19; 18C partly cloudy.
Sunday, September 3, 2006, 2 p.m. Iroquois Shore Bluff. Meet at NE corner of Dufferin St. and Regal Road. Walk east and west along the bluff. Easy with some slopes. Leader Ian Wheal. Eighteen attended including Dick Watts who was co-leader. Weather good.
Sunday, August 20, 2006, 2:00, Mud Creek Garden Tour. Meet at the SW corner of Yonge St. and Broadway Ave. Includes rooftops, the Eglinton Park Heritage Community Garden, and other surprises. Leader Helen Mills. Walk difficulty largely city streets.
Attendance 30 including hosts. Weather: muggy, threatening rain, only a few drizzles. We visited the container garden at the Northern District Library, the roof garden on the same building, the Eglinton Park Heritage Community Garden, and two private gardens: Oriole Parkway north of Davisville, which according to the previous owner was once beside a small creek (big willow at neighbours was cut down a few yuears ago). This was an organic garden with evergreens grown from seed or very young plants - quite lovely. Oriole Road south of Lonsdale. A new garden in a giant "container" ie a filled in swimming pool right on Mashquoteh Creek. She knew about Mashquoteh and sent the reference to Andrew - the Lost Rivers Site! Her husband is related to the Baldwin family in some way. Also organic - main focus at the time was a beautiful butterfly bush, and lots of monarchs to go with it. She planted a willow in honour of the creek, and also put in a small water feature. We ended with Japanese food on Yonge Street.
Wednesday, August 2, 2006, 1:30 p.m. David Balfour to Chorley Park Craigleigh Gardens. A TFN walk. Local history and nature. Meet at St. Clair subway station exit on the south side of St. Clair Ave. E. Not a circular route. Leader: Ed Freeman. Attendance 8, including three blind persons. It was hot (36C) and partly sunny.
Saturday, July 15, 2006, 1 ‒ 3 p.m. Highland Creek Restoration Hike. Joint walk with Toronto and Region Conservation in Morningside Park. Get a first hand look at erosion control and fish habitat restoration work taking place in the Highland Creek. Discover the beauty and diversity of plants and animals that make Morningside Park their home. The park access road is off Morningside Avenue, south of Ellesmere Rd. Start at the third parking lot and walking downstream along the creek, then looping back along a trail that brings us back to the road and parking lot. Washroom facilities between the first and second parking lots. Leaders Bill Snodgrass, Helen Mills, Peter Hare, Andee Pelan and others. It is hoped to have more information on this website shortly. Attendance 30; warm and sunny, a few clouds, 27 to 35 C.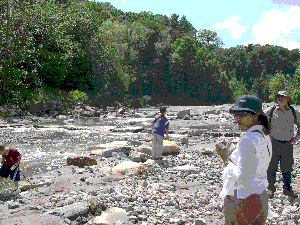 Rocky Ramp seen along Highland Creek
Saturday, June 24, 2006, 2:00 p.m. Industry and Nature. Start at Long Branch TTC loop at Lakeshore and Brown's Line. Find out about the fascinating industrial, military and social history of this site and see how it is being transformed into a natural habitat and wetland , teaming with life. Moderate difficulty due to uneven ground. Leader Ian Wheal. Attendance 5, warm 26 C.
Sunday, June 18, 2006, 2:00. Burke Brook. Start at Yonge Street and Lawrence Avenue, SE corner. Visit Lawrence Park, Alexander Muir Memorial Gardens, the channellized portion of Burke Brook known as The North Toronto Storm Trunk Sewer, and Sherwood Park; to end at Bayview Avenue. Moderate difficulty, mostly park trails but some hills. Leaders Ed Freeman and Bill Snodgrass. End time: 3:40 pm. Attendance 33; weather: 30 C hot and warm; observations trees: Crack willow, basswood, tamarack, birch, beech, maples, oaks, grandiflora rose (invasive), equisetum, buttercup:
May 22 (Victoria Day), 2006, 2 p.m. Garrison Common, Nature and PreHistory. Meet at Bathurst and Queen Streets. City streets and park trails. Leader Ian Wheal. Attendance 23.
Sunday, May 21, 2006, 2:00. Don Valley. Start at Pottery Rd and Broadview SW corner. Follow Pottery Road to Todmorden Mills, and on to Beechwood Wetland, Sun Valley, Crothers Woods and North Toronto Sewage Treatment Plant. End at Loblaws. Moderate difficulty. Leader Dr. Michal Bardecki. assisted by Ed Freeman & Ian Wheal. Attendance 29 Cool 8C overcast odd sprinkle nasty wind in open.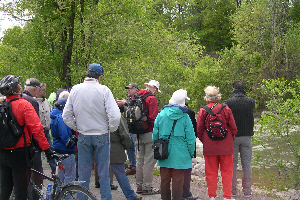 Sunday, May 14, 2006, 1:00 - 3:00 p.m. Agnes Moodie Fitzgibbon Wildflower walk. Madeleine MacDowell and the Humber Heritage Committee will again hold this special annual walk starting at the Lambton House, 4066 Old Dundas street West, on the east bank of the Humber River, and going into the Magwood Sanctuary. City streets and park trails. Could be a good time to see spring wild flowers. Fifth Annual Agnes Moodie Fitzgibbon Wildflower Walk Humber Heritage Committee for TFN and North Toronto Green
1:00 P.M. Sunday May 14th 2006 Attendance 38 people; weather 16 degrees C clouds and expected rain vanished for a sunny afternoon.
Started at the Lambton House with a short talk about Agnes and her book illustrations from 1866. Copies of all of the plates hang on the wall in the Lambton House. An original one of her watercolours of flowers from the 1880s was on loan as well.
Visited the native Columbine before leaving the Lambton House precincts. There was no sign of the Wake Robins this year. (The City mowed the Trilliums last year) Followed the lane behind the houses on Warren Crescent as far as the gap next to George Harvey's house (lots of bird action), where we turned east and followed the street to the school yard, which we cut through, observing the native trees which are growing well Streets to the Ravine along Gooch. The degradation of the Ravine continues, although the patch of Bloodroot which we could not see last year was there this year along with berry and Sumac bush, a huge willow mid slope and a scattering of celandine. One of the springs was active, but draining into a storm sewer.
Further along the springs were flowing and ponding with lots of skunk cabbage and some bull rushes. We crossed over St Marks Road (part way up the hill) visited the old Hydro Transformer site now overgrown with berry bushes, some wild ginger, trilliums on the slope above, Trout Lilies finished blooming. We descended the slope and entered the Magwood Sanctuary. Went east between the Ravine slope and the Native Thunderbird Mound, where there has been some regeneration of False Solomon's Seal, lots of Trilliums on the slopes, Trout Lilies, Jack in the Pulpit, Skunk Cabbage, berry bushes. We retraced back to the main path through the Sanctuary (which is a degraded woodland marsh). There we passed Elderberry in addition to the assortment of currant, gooseberry and raspberry previously observed. The predominant tree cover was Carolinian; Oak, Shag Bark Hickory, Pine, Beech, Maple, The spring fed stream was flowing through a "field" of Skunk Cabbage parallel to the path for a while. The Trout Lilies here had the remains if petals, there were large patches of May Apples and Trilliums, some Wild Ginger, Fiddle Heads, and False Solomon's Seal. As we emerged into the Park by the River we passed a lot of Berry bushes and a large field of both purple and blue Violets interspersed with some yellow Violets. The Parks department has finally succumbed to not mowing some areas where there is a wildflower population and it is regenerating its self. We followed the park where the Hawthorns were in bloom and then the Lane (violets, celandine fiddle heads, domestic flowers and bushes) back to George Harvey's House. Lots of Bird action and a stellar Redwing Blackbird performed his full song Then we followed the trail by the River, cutting back up to Old Dundas and the Lambton House for tea and scones. Throughout the whole walk there was an overwhelming amount of Garlic Mustard, which is choking the indigenous population.
May 7, 2006, 6:30 p.m. Toronto's Environmental Backdoor. Military community gardens, back to nature and Great Depression; Black Creek and Lavender Creek. Meet at TTC loop, Gunn's Road & St Clair Ave. City streets and park trails. Leader Ian Wheal. Attendance 6.
Sunday, April 16, 2006, 2:00 p.m. The Old Shore of Lake Ontario. Meet at the SW corner of King St. and Spadina Ave. Mostly city streets but some moderately difficult stretches. Leader Helen Mills. Attendance 50; fine day.
Wednesday April 5, 2006, 1:30 p.m. Toronto Lakeshore, Nature and some Local History. Along the waterfront starting at Spadina Ave. and south side Queens Quay West end at Windermere and the Queensway Roncesvales & King/Queen. Leader Ed Freeman. Attendance 17; 3C cool, windy, overcast, minor snow flurry otherwise fair.
Saturday, March 25, 2006, 2:00 p.m. Lost Ponds of the Annex. Meet at Bloor Street and Spadina, outside Spadina Subway Station; city streets. Leader Ian Wheal. Attendance 28; 5C, light wind, mostly cloudy.
Sunday, March 19, 2006, 2:00 p.m. The Lower Garrison and its Tributaries. Start at College and Dovercourt YMCA. Along city streets. Leader Ian Wheal. 38 people attended; cool -1C, light wind, mostly cloudy;ended at Queen's warf, recently uncovered.
Sunday, February 19, 2006, 1:30 p.m. Queen Street to the Market. Start at SE corner Bay and Queen St. Route will be along city streets along and across Court Creek to end at the Market Gallery. Will see Old City Hall, Cloud Garden Parkette, Yonge St. Arcade, Toronto St., Court St, Church St., King St., Jarvis St to Esplanade and back up Market St. to Market Gallery. Walk will stress Court Creek and early waterfront along with comments on various buildings. Leader Ed Freeman. Attendance 45 cold -6 wind chill -14 windy and clear.
Saturday, February 18, 2006, 2 p.m. Bathurst Street, Country Lane to Military Place d'Armes. A walk to see the Bathurst streetscape: lost ponds and creeks (Russell & Garrison), 1911 flood and an overflow sewer. Meet at SW corner College and Bathurst Streets. On city streets. Leader Ian Wheal. Attendance 9, cold -18 wind chill.
Saturday, February 11, 2006, 2 p.m. Amphibian Wetlands of Leslieville. Meet at NW corner Queen Street and Jones Ave. On city streets. Leader Ian Wheal. Attendance 32; mostly sunny, fair 10C light wind.
Saturday, January 21, 2006, 2:00 p.m. Ecology of Dovercourt. An in depth look at the ecology of this area of the city. Meet at SW corner Bloor Street West and Dovercourt Road; on city streets. Leader Ian Wheal. Attendance 17; dry 4C mostly cloudy.
Sunday, January 15, 2006, 2:00 p.m. Solar Energy, Landscapes & Laundromats. A tour of the lost rivers of the Beaches Area, ending with a tour of the Beach Solar Laundromat. Come and find out how it is all connected. Meet outside the the Kew Beach Library, south side of Queen St. just west of Lee Ave. Moderate effort as it will be mostly along city streets, but there are hills. Leader Helen Mills. Attendance 63; -12C sunny few clouds light wind.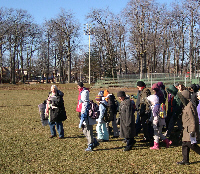 Saturday, January 14, 2006, 1:30 p.m. Hastings Creek. An examination of the ecology of this historic stream. Meet at Donlands Subway Station; on city streets. Leader Ian Wheal. Attendance 12; some drizle -2C cloudy.