Other years
Sunday, January 19, 2003, 2 p.m. The Channalized Don Partnered with the Task Force to Bring Back The Don and Evergreen; to start River St. and Queen St. end Riverdale Farm. What can be done to improve habitat along the most constrained stretch of The Don? Leaders Peter Hare and others from TFBBD.
Sunday, February 16, 2003, 2 p.m. Dennison Creek, Heritage and Trees in Winter. Explore one of the Garrison Creek tributaries, The Dennisons, one of early Toronto's leading military families, farmed and built grand houses along this stream. We will also observe trees in their winter condition. Meet at the YMCA south east corner Dovercourt and College., end Dufferin Subway Station. Leaders lan Wheal and Peter Hare.
Sunday, March 16 1 p.m. To 4 p.m. Exploring Lake Iroquois Shore Bluff and the Davenport Trail Meet in the lobby of J. J. Piccininni Community Centre (St. Clair Ave. West just west of Lansdowne Ave.) History, geology, lost creeks, estate homes then and now, vistas over the city and across Lake Ontario, and more. Walk leaders: Dick Watts, lan Wheal, David Raymont and others. The walk ends at Dupont Subway Station.
Sunday, April 27, 2003, 2 p.m. Local Action to Restore Taylor/Massey Creek. Start at Wexford United Church, Lawrence Ave. & Ellington Dr. Leader Richard Anderson.
Sunday, May 18, 2003, 2 p.m. Ashbridge's Bay Creeks Leader John Wilson. Start Broadview & Hogarth. On this walk we will discover at least 11 lost creeks in four distinct subwatersheds that once flowed into Ashbridge's Bay. Highlights will include a secluded, century-old Jewish cemetery that once overlooked one of the creeks, as well as various reminders of the brick-making enterprises that once flourished along the creeks' courses. Finally, we will be rewarded with a live creek, still flowing in a forested ravine.
Sunday, May 25 2003, 2 p.m. Spring Flowers, Creeks and the Wilson Heights Storm Trunk Sewer**, **in Earl Bales Park start at park entrance on Bathurst at Raoul Wallenburg. Leader Helen Mills.
Saturday, June 14, 2003, 1:30 p.m. Railways in Scarborough Meet at Victoria Park and the 401 Ramp. Leader Ian Wheal. (This was originally listed for June 7.)
Sunday, June 15, 2003, 1:45 p.m. Landscape Nature and Natural Resources Start Science Centre (front door), end Chorley Park. via Brick Works. Leader Ed Freeman.
Sunday, June 22, 2003, at 1:30 p.m. Five Tributaries of Black Creek; Meet at York Civic Centre entrance (Eglinton Ave. just west of Keele St.) Geology, history, ecology, watersheds, land use etc. We will explore five tributaries of Black Creek that carved valleys in the shore-bluff of the ancient Humber River following retreat of the Wisconsin glacier. The walk ends at Amesbury Park (Lawrence Ave. at Culford Rd.). Walk leaders: Dick Watts, Richard Anderson & Rob Colle.
Sunday, July 6, 2003, 2:00 p.m. Ecological Gardens in the Ashbridges Bay Watershed See ecological inspired gardens at schools and homes which provide both habitat and beauty. Meet at Jackman Public School's Millennium Garden, 79 Jackman Ave. (north of Danforth) near Chester Subway Station, Holly Brook, Mill Brook, Staples houes, Withrow Huron Site, and the Bain Co-op. Leaders Erica Wilson, Helen Mills and friends.
Sunday, July 20, 2003, 2:00 p.m. Mount Pleasant Cemetery Garden Tour. Meet at Merton and Mount Pleasant. Leader Helen Mills.
Sunday, July 27, 2003, 2:00 p.m. Eglinton Park Garden Tour. Meet at the Community Garden (behind the Community Centre in Eglinton Park (Eglinton at Oriole Parkway). Leader Helen Mills.
Saturday, August 9, 2003, 1:30 p.m. Heritage Toronto walk of Fairbank. Meet at Briar Hill School Yard on Dufferin Street, end at Fairbank Park at the headwaters of Lavender creek. Leader Madeleine McDowell.
Sunday, August 17, 2003, 2:00 p.m. Gardens and Nature in St James Town and South Rosedale; meet Sherbourne Street and Bloor Street East outside Sherbourne Subway Station. A joint walk with Evergreen, to see St. James Town West Park's native plant habitat gardens (maintained by community volunteers), featuring a butterfly garden, an aboriginal herb garden, and a children's garden; (did not see; "also gardens and forest restoration in Rosedale." Saw city parks and Miziwe Biik garden instead.} and other links between urban and natural settings. To learn more about the St. James Town West Park gardens, see this page: Leaders: Sarah Brierley and Helen Mills. Attendance 30. It was a warm August Day.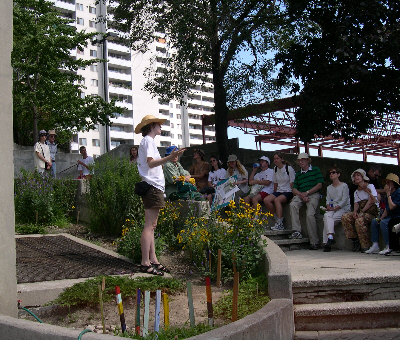 Sarah Brierley describes garden
The Miziwe Biik Garden was part of this Lost Rivers walk. The tour began by showcasing two other Evergreen Community Gardens in the Bloor East/Sherbourne area, the St James Town West Park gardens (Butterfly Garden; Aboriginal Medicine Wheel) and the Art City garden (free neighbourhood kids' art studio). Participants then continued on to Toronto's "historic garden district," with stops at Allen Gardens and the Moss Park Kitchen Garden. Sarah Brierley pointed out that the name "Miziwe Biik" (Ojibway for "water which flows around us") is very apt, as one of the Moss Creek tributary streams, buried in the 19th century, probably flows right by the site.
Saturday, August 23, 2 p.m. Highlights: the archaeological digs south of the Rockcliffe Greenhouses where we visit heritage vegetable gardens and then continue along Black Creek ending at Tim Hortons at Jane and Alliance. 2-1/2 km. This is a joint endeavour of Lost Rivers, York Community Services and the Hispanic Development Council. Start at Weston Rd. & Gunns Rd., first street North of St. Clair (one stop north of St. Clair on #89 bus out of Keele Subway Station). Leaders Dagmar Baur & friends.
Sunday, September 7, 2003 3:00 p.m. "Among the Green Hills" from the Cabagetown Festival up the Don Valley. Meet Sumach and Winchester Streets. Food and entertainment at the festival. Leader Ian Wheal.
Saturday, September 13, 2003, 1:30 p.m. History on the Hill. We'll explore Garrison Creek valley from the Humewood Drumlin to the Iroquois Shore Bluff; visit the flowing waters of Wychwood Creek and the old valley of Bracondale Creek; tour the site of Wychwood Car Barns Restoration and the Tollkeepers Cottage; and we'll hear tales of old estates and the Wychwood Park Heritage Conservation District. This is a joint walk with Heritage Toronto. Meet at Humewood Park, one block north of St. Clair at Christie/Humewood. Walk Leaders: Dick Watts, Ian Wheal, David Raymont, and Friends of a New Park.
Sunday, September 14, 2003 1:30 p.m. The Gerrard Prairie. Meet at Victoria Park Subway Station south entrance (Denton Ave.). Leaders, Ian Wheal and Ed freeman
Sunday, September 14, 2003 The Don Watershed Regeneration Council Celebrates Ten Active Years with an open house at the Don Valley Brick Works. For information call TRCA 416 661 6600 extension 5283.
Saturday, September 20, 2 p.m. Highlights: the Foxwell Allotments and the York Community Services Organic Garden. This is a joint endeavour of Lost Rivers, York Community Services and the Hispanic Development Council. Start at Jane Ave. & Woolner/Foxwell. We'll go along the Hydro Corridor where there are remnants of old railway lines, Scarlett Rd to Edinborough and a secret entrance to Smythe Park and Black Creek where fish and heron can still be found. It is also historically significant because Native and Pioneer Trails went through there. Ends at Tim Hortons at Jane and Alliance. Leaders, Dagmar Baur & friends.
Sunday September 21, 2 p.m. The Headwaters of Burnett Creek to Earl Bales Park. On the way see York Cemetery and a stand of old Black Cherry and White Pine. Start at Finch and Bathurst. Leader Helen Mills.
October 19, 2003, 2:00 p.m. High Park Storm Water and Habitat Action Leader Ron Allan. Start at north-east corner of High Park (Parkside and Bloor). Attendance 28; weather cool 9c mostly cloudy.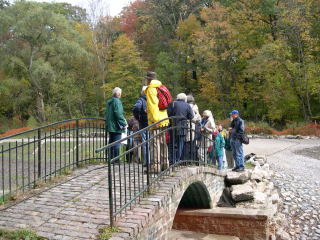 Group observes settling ponds from bridge.
Wednesday, Oct 22, 1:30 p.m. The Beltline West. Fall wildflowers along the abandoned railway, ancient creek valleys, vistas across glacial meltwater channels, tales of early settlement in Fairbank, and more. Walk leaders: Dick Watts and Madeleine McDowell. Meet at Eglinton West subway station. Coment received by e-mail "Yesterday I went on a very interesting and well conducted Lost Rivers walk on the western part of the Belt Line."
Sunday, October 26, 2:00 p.m. Mimico Creek - The Joys of Geology and Natural History. Meet Royal York and Coney Rds. Leaders Ed Freeman and Richard Anderson. Attendance 24 Cloudy dull 10C; threatening rain did not fall.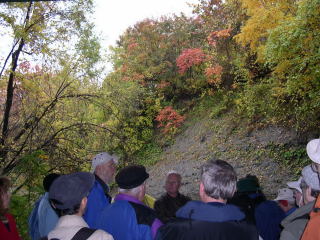 Ed Freeman explains geology of Mimico Creek
Sunday, November 16, 2:00 p.m. Russell Creek Trace a long lost creek through downtown Toronto. Meet Simcoe and Front Streets SE corner. Leaders Ian Wheal and Peter Hare. Attendance 26 Overcast foggy 5 C
BELTLINE CLEANUP Friday & Saturday, December 12 & 13 Toronto Beltline Trail CLEANUP - 11:00am meet at Mount Pleasant Cemetery Gates. For more information call Stephen Brooks 416-483-1874 or email: stephen@stephenbrooks.com Web - www.streetsmarts.ca
Saturday, December 20, 2003 11 a.m. Ravines at The Solstice. Start at St.Clair West Subway Station south side of St.Clair. We will walk through the Nordheimer Ravine and along Davenport to the Spadina Underpass where we will observe the Sun at the Solstice at about 12:30. We will enjoy a bag lunch and conversation at the Archives. Afterwards more ravines. Leaders Ed Freeman and others. Difficulty: city streets and park trails and possibly some stairs; could be icy in spots depending on weather.
Return to Walk Archives main page