2.2 km. A tributary of Castle Frank Brook
This tributary arose west of Bathurst south of Eglinton and flowed Southeast and then Southwest 2.2 km,to join Castle Frank Brook near Lonsdale Road. Its source was near Warwick Ave. and Glen Cedar Rd. from where it flowed between Warwick & Markdale, crossing Bathurst south of Beth Tzedec Synagogue, continuing east to the intersection of Vesta Dr. & Silverwood Av., south east to Dunloe Rd. & Kilbarry Rd., south to its intersection with Fry Brook and then south west through a small park to join Castle Frank Brook north of Lonsdale Rd. A trunk storm sewer follows Forest Hill Stream's route roughly from Bathurst Street and down through the park to manhole # 16 A on the Spadina Storm Trunk Sewer, with a side trunk sewer following Frybrook Rd. from Forest Hill Rd. West of Bathurst, it flowed the former City of York. From Bathurst Street east, it flowed through the former Village of Forest Hill.
Click here to see sewers. Double click to remove.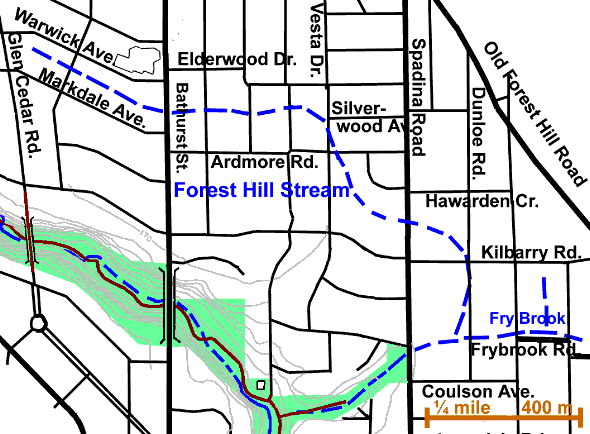 To follow Forest Hill Stream, start at the corner of Warwick Ave. and Glen Cedar Rd. Follow Warwick to Bathurst, noting the trough marking the former stream's location between Warwick and Markdale Ave. to the south. Cross with the lights and follow Elderwood Dr. to Vesta Dr. Again noting the trough to the south, between Elderwood and Ardmore Rd. Follow Vesta to Ardmore, to Hawarden Cr. to Spadina. There is quite a bit of fill along Vesta and Ardmore and where the stream crossed Spadina masking the stream's channel.
South west of Hawarden there is a bit of wooded ravine left behind the houses. This is not an original bit of woodland. The trees noted include: Siberian Elm, Silver and Norway Maples, Cottonwood and one young White Pine. There are two older White Pine near Spadina. The street tree density in this part of Forest Hill is fair to good, but dominated by many Norway Maples with some Lindens, Silver Maples, Ash, White Birch and Colorado Spruce; however there is a scattering of other species; those noted include: Blue Beech, Amur & Japanese Maples, ornamental Cherries and Ginkgo on Elderwood; White Pine and Chamaecyparis on Vesta; large White Pine and Mulberry on Spadina. On Dunloe, see White Pine, columnar English Oak and old Red Oaks at the back of the east side lots.
Cross Spadina and go one block south and east to the intersection, of Dunloe Rd. & Kilbarry Rd. The stream flowed south west of Dunloe for two thirds of a block to where it met Fry Brook 0.4 km, coming down from a bit west of Upper Canada College. A bit of the Fry Brook ravine can be seen along Frybrook Rd. between Warren Rd. and Russell Hill Rd. with a side stream coming south for a block between those streets. Trees in this ravine fragment include: Red Oak, Ash, Black Locust. Alder, Norway Maple and Beech. The combined streams flowed west to cross Spadina and into a small park. Reach this park by walking south on Dunloe and west to Spadina on Coulson Ave. Trees in park include: small White Pine, Hemlock, Larch; Scots Pine, Austrian Pine, Norway Maple, Ash, Honey Locust. The park leads to a more natural wooded ravine: In the more moist bottom: Manitoba Maple, Ash; Walnut on the slopes: Natives such as Oaks, Beech, Black Cherry, Maples Hemlock, White Pine & Grapevines plus Siberian Elm, Cottonwoods, Manitoba Maple, burdock etc. Note "chico" or dead White Pine with Woodpecker holes. It is important to leave some standing dead trees for wildlife.
Return to Cedarvale Reach page.