The Village of Forest Hill was incorporated on Nov. 23, 1923, effective January l, 1924. The village council met first Dec. 21, 1923. All members had been acclaimed; there was a reeve, Laurence Baldwin, and four councillors, John Midgeley, Edwin George Long, John O. Thorn and Andrew Hazlett. The village got its name from the summer home of John Wiskson that had stood near Eglinton Avenue and Old Forest Hill Road in the 1860s.
Local residents of the area then called "Spadina Heights," felt they could get better value for their taxes and preserve their high quality of education and residential development. petitioned the Province for secession in 1923. Bounded on the south and east - by the City of Toronto and on the north and west - by the then Township of York and located on high ground, it was deemed beautiful property for residential development. It would be within the urban area of Toronto, but not a part of Toronto and thus have all of the advantages of a large city and none of the disadvantages.
Many wealthy people were attracted to reside within its borders due to the fine location and low taxes. The result was that The Village of Forest Hill became one of those few Canadian municipalities, that having an unusually high per capita wealth, consist mostly of very high class residences. In 1931, the council had decided to eliminate all industry in the Village and limit any development to single family homes designed by an architect. There were at that time seven industrial firms operating in the Village: Dufferin Construction, Godson Construction, Worthington Construction, Brown's Bread, Barber Coal, Boake Manufacturing, and Myers Lumber Companies.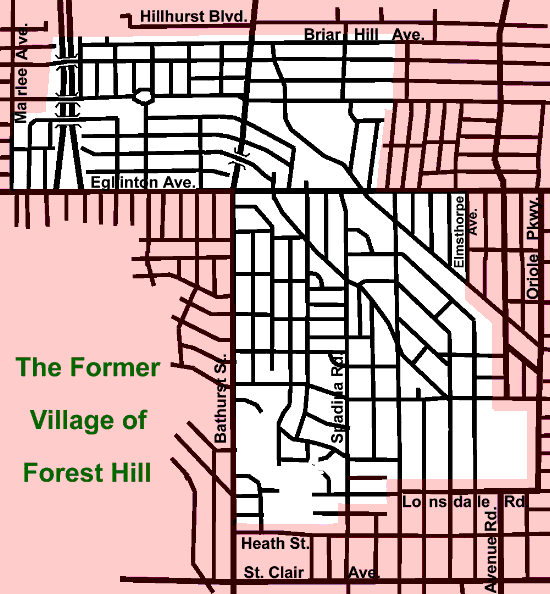 By mid twentieth century the winds of change were blowing and, in 1953, Forest Hill found itself in the Municipality of Metropolitan Toronto along with 11 other suburban municipalities and the city. Within this union it still had a fair degree of independence.
During this period, Forest Hill's sewer system was converted from a combined sewer system to a fully separated one. As neighbouring North Toronto was expected to become completely rebuilt into highrise apartment buildings, no major effort was made there to have all house roof and foundation drains connected to the new storm sewers then being laid through most of the area and is still classified as a combined sewer area.
By the mid sixties, Metro became unwieldy and when it was reorganized in 1967, The ViIlage of Forest Hill was amalgamated into the City of Toronto. Six other small towns were also absorbed by their larger neighbours. By the time the megacity arrived it was but a memory; however, the name had such pizzazz that a much larger area was deemed in many minds to be "Forest Hill."