1.7 km, and its tributaries Mandela Stream 0.7 km, West Sumac Creek 0.4 km, and East Sumac Creek 0.4 km
Return to Don Channel Reach main page.
Except where noted below, Sumac Creek is quite lost and no traces are visible. It Started in the area now known as Cabbagetown a bit east Spruce Street Public School and flowed south along Gifford Street through the grounds of Toronto General Hospital (1856 to 1914) then crossed Gerrard into the Regent Park Precinct.
A bit NE of Dundas and Sackville it was met by its tributary Sumac West Creek, which had started just about at Spruce Street and Dermott Place and flowed south across Gerrard Street to curve east to Sackville Street, then to follow that street for a bit before again curving east to join Sumac Creek. The combined stream flowed SE to cross Dundas and then Belshaw Place, at the bend, and then meet Sumac East Creek which had started along Sumach Street south of Gerrard and flowed south.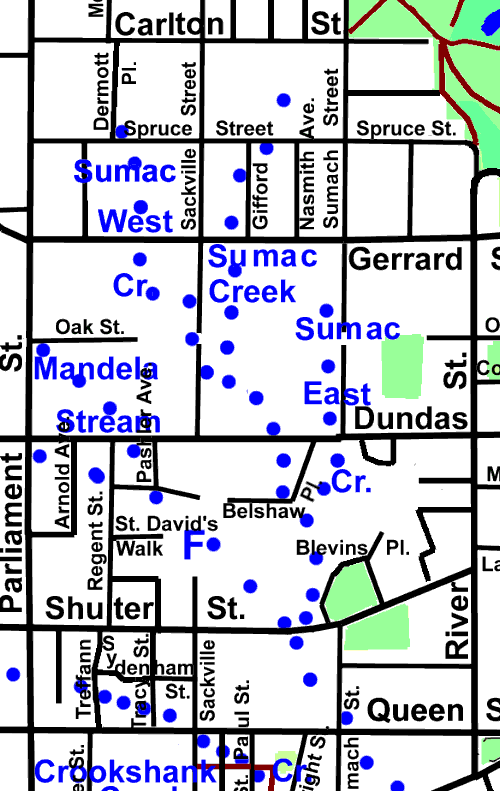 Sumac Creek continued south past Blevins Place to cross Shuter Street in front of Nelson Mandela Park School. This is one place that a distinct dip in the street marks the former course of this stream. Here it met its longest tributary, Mandela Stream (0.7 km), which arose near Parliament and Oak Streets and followed a south-easterly course meeting a very small unnamed tributary at Pashler and Belshaw. A slight dip along Dundas and another along Regent are the only visible traces of these streams. There is a children's wading pool where St. David's Walk and Sackville Street would meet (if extended) giving us a water feature marking the route of Mandela Stream.
Click here to see sewers. Double click to remove.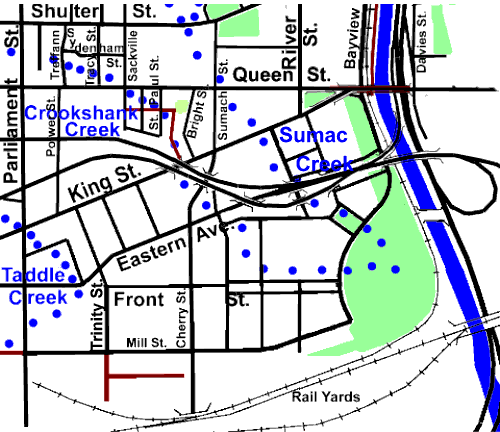 Sumac Creek crossed Queen Street at Sumach Street and flowed SE to cross King Street and Eastern Avenue at Lawrence Street and on into the West Don Lands where it entered the Don River about in the middle of the new Park very close to where Crookshank Creek also met the Don.