900m of Taddle Creek
This reach gets its name from St. Patrick's Ward, which was annexed by the city in 1834. At the time of incorporation as a city Toronto's north boundary was moved from Queen Street to Bloor Street. "The Ward", as it came to be called, was an area of narrow alleys lined with sweatshops and dilapidated slum housing, the homes of many immigrants fleeing rebellions, famine, and persecution in Europe. This started with the subdivision of the Macaulay land (See Teraulay Cottage) which became York's first working-class subdivision. Filled with working-class housing "The Ward" had a population of 1,472. Eventually, much of the decrepit housing was replaced with T Eaton Company and other factories, which were in time replaced with the structures now seen.
Now this is an area mostly covered with commercial structures, but which contains other significant buildings including two city halls and Osgood Hall. Except for part of the park area and the grounds of Osgood Hall, tree cover is essentially absent. Storm water flows to Toronto Bay and sanitary sewage to the Ashbridges' Bay Treatment Plant. The Mid-Toronto Interceptor Sewer passes through this area, along Dundas, up Elizabeth, and then east along Gerrard.
Click here to see sewers. Double click to remove.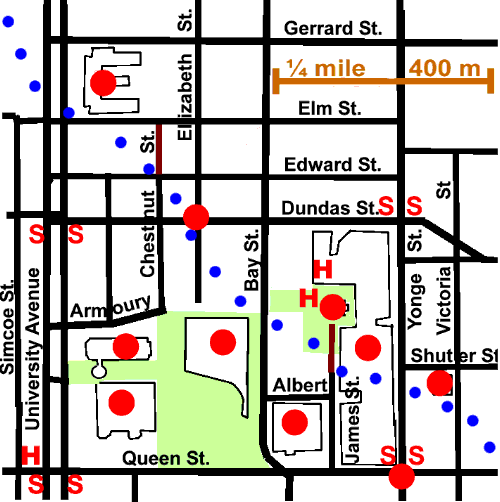 Pick up this reach on University Avenue at Elm Street. This is where Taddle Creek crossed College Avenue, as University Avenue was first known. You will not notice any evidence of the former stream as you trace its course from here to Yonge Street, but will see quite a few interesting buildings and sites. On the north-east corner of University Avenue and Elm Street is the world famous Hospital for Sick Children. Go east and south to Elizabeth Street and Dundas Street. In the early 1920s, Toronto's original Chinatown centred on this intersection. Follow Elizabeth south to the New City Hall. Here you could take a detour west and south to see Provincial Court House (which marks the site of the earlier University Avenue Armouries), Osgoode Hall and the Campbell House.
Walk along the north side of New City Hall to Bay Street. Here is where the Taddle crossed Teraulay Street, as this stretch of Bay Street was once known. Cross Bay Street and enter Trinity Square the site of James Macaulay's Teraulay Cottage. Here you can visit The Church of the Holy Trinity and see one of the homes of the Reverend Henry Scadding. Go south on James Street to Albert Street. Before you enter The Eaton Centre, observe the "Old City Hall." In The Eaton Centre, there is a fountain that is located very close to where the Taddle passed. Cross Yonge Street and follow Taddle Creek through the Muddy York Reach.