1.4 km plus small unnamed tributary 400m
Return to Don Channel Reach main page.
Except where noted below, Crookshank Creek is quite lost and no traces are visible. It arose close to the intersection of Carlton and Jarvis Streets, on the west side of Allan Gardens, close to an early site of Jarvis Collegiate. It crossed Gerrard Street at George Street to follow the latter for a way before crossing Dundas close to Pembroke Street. Not far from here is "Allandale", 241 Sherbourne Street (just north of Dundas Street), the later life home of Enoch Turner.
It continued on south-easterly to cross Sherbourne north of Shuter. There is a bend in Shuter, and a bit of a dip in the land, that may well be signs of the former stream. South of Shuter along the former Seaton Street at # 18 is the site of the first Women's College Hospital which opened in 1913.
On some maps, a small unnamed tributary is shown from near Seaton and Dundas to meet Crookshank Creek at Ontario and Shutter. The remarks in "Tops of Streams and Other Indistinct Stretches" may apply.
To see points of interest hot spots and main sewers pass mouse over map.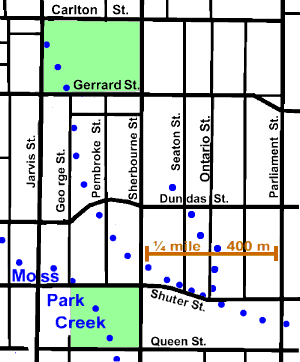 This area is a mix of old victorian housing, with commercial strips along major streets, and newer buildings including a cluster of highrise appartments buildings south of Shutter. There is a fair tree coverer in the old housing areas dominated by mature Silver and Norway Maple with other species including Horse Chestnut, Ailanthus, Honey Locust, Elm, Linden, Cedar, Ash, White Birch,Mulberry and Spruce observed. Some Ausrian Pine, Honey Locust, one Ginkgo and Norway Maple were seen in the highrise areas. Allan Gardens is dominated by Silver and Noway Maple, but has a few other species including a cluster of three Dawn Redwood and a Kentucky Coffee Tree.
Crookshank Creek crossed Parliament between Queen and Shuter and flowed east, north of Queen Street, to cross the latter at Sackville Street. There are low spots along Treffann and Tracy Streets that mark the stream's route. It crossed Queen St at Sackville St. It is suggested that you go east on St. Paul Street, south to Ray Lane; follow lane east and south to King St. and under the overpass to Cherry St. There are dips along these streets and lanes marking the course of the stream. There is a light tree cover that includes Manitoba, Norway & Silver Maples, Ash, Siberian Elm, Honey Locust & White Birch. This is an area of old housing that was considered part of Cabbagetown. In fact it is the best place to experience the type of area that was Cabbagetown. Crookshank Creek is still a low income area. It passes through the Moss Park census district, which has the lowest median household income in thecity, $15,357. and about 2,500 beds for the homeless.
Click here to see sewers. Double click to remove.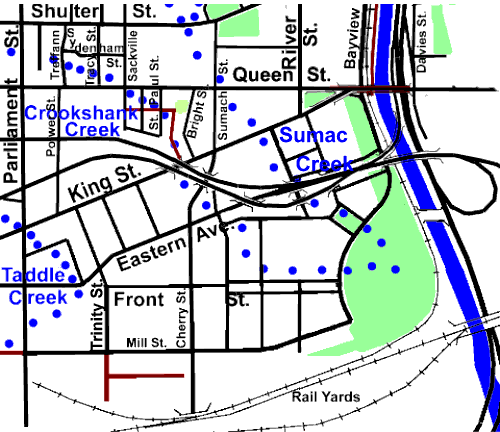 To see points of interest hot spots and course of early Don River pass mouse over map.
At King Street it entered the West Don Lands which are closed while undergoing a major transformation. Crookshank Creek flowed south and east to enter the Don River about in the middle of the new Park and very close to where Sumac Creek also met the Don. More later.