William Allan, an early settler of the Town of York, built his great house "Moss Park" in 1830. After his death in 1853, his son, George William Allan, president of the Horticultural Society of Toronto, and later Mayor of Toronto donated this land to the city for use as horticultural gardens in 1857. He wanted to give his fellow citizens the chance to experience the beauty of flowers. This park was formally opened by the Prince of Wales, later King Edward VII, on September 11, 1860. For a while the property was managed by the Horticultural Society, but in 1888 the city took control and it became a city park.
Allan Gardens in 1860
In 1885 the grounds were landscaped with lawns, flower beds, seats and a large fountain, which stood near the centre of the grounds. The park was named Allan Gardens in 1901, the year that George W. Allan died.
The old pavilion was destroyed by fire June 6, 1902, and in 1909, the present Palm House, designed by architect R. McCallum, was built to replace it. It contains a choice collection of native and foreign plants, rare orchids and other exotic plants, and, of course, palms.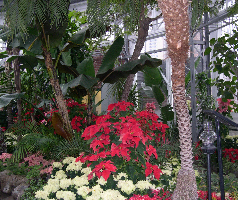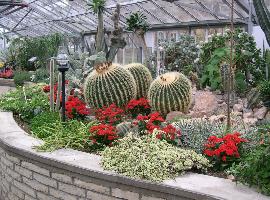 Inside the Green Houses one can see plants from tropical and desert areas and in the Christmas season lots of Poinsettias.
The park area of Allan Gardens is dominated by Silver and Norway Maple, but has a few other species including a cluster of three Dawn Redwood, Norway Spruce, White birch and a Kentucky Coffee Tree.