2 km of Yellow Creek from Downsview Airfield to Rondale Blvd.
plus Ancaster Stream 1.3 km
Yellow Creek rose in two small streams north of Dufferin & Wilson area in the Downsview area. These joined together on the site of the Highway 401 / Allen Road interchange and flowed south-east. Due to the generally flat terrain and the construction of the airport and the highway interchange very little signs of the sources of Yellow creek can be detected. I found a ditch in Ancaster Park (NW of Dufferin & Wilson) that might mark the west source: Ancaster Stream. There was also a ditch on the airport grounds east of Beefort shown on a map based on 1969 air photography. that could be a remnant of the east or main source. Parts of the former stream can be inferred from slight changes in topography.
It is suggested that a visit to this reach start at Dufferin St. & Wilson Avenue. Go up Dufferin St. to Katherine Rd. and Beefort. Observe manhole east of road; the stream in a sewer. The Downsview Airport can be seen over the fence, east of Beefort. See note on early airfields. Follow Katherine Rd. west to Ancaster Park. A shallow ditch in this park is a possible indication of the west source. See note on ditches near the top of watersheds. Returning to Wilson Ave. note the ditch filled with cattails running north from Wilson, just east of Dufferin. Go south on Dufferin St. to Yorkdale Road. Yellow Creek crossed Dufferin a block north of Highway 401.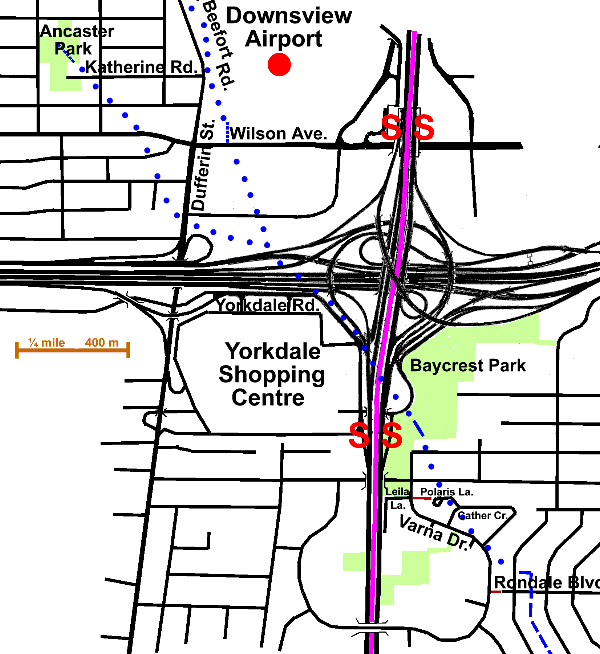 Follow Yorkdale Road through shopping centre to Yorkdale Subway Station. Yorkdale Shopping Centre was the first of the covered malls and opened in 1964. From there take footpath east into Baycrest Park. Observe a low spot in park east of subway station. Walk south through park to Varna Dr. Follow Varna to footpath opposite Leila Lane. Take to footpath to Polaris Lane & on to Cather Cr. & back to Varna. Follow Varna to footpath leading to Rondale Blvd. Continue on following Bathurst Heights Reach.
The tree cover is absent or sparse over much of this area. In the parks and in the residential areas north of Wilson and south of Yorkdale, the trees are smaller and sparser than in the older parts of the city. Norway Maples, Crab Apples, Green Ash, Lindens and Honey Locusts predominate, with some Siberian Elm & Colorado Spruce. Some Austrian Pine were seen at Leila Lane and there are Austrian Pine & Amur Maple in Baycrest Park.
The area is largely in the North Toronto Sanitary Sewershed, but bits are in the Humber and Don Sewersheds. Storm water flows via North York Storm trunk to Black Creek. The storm trunk sewer is not shown on the map, but runs south under the Allen Road. Sanitary drainage in the area North of Wilson goes to the North Toronto Sewage Treatment Plant in the Don Valley. South west of Wilson & Dufferin it goes to the Humber Sewage Treatment Plant.